The modern threat landscape for businesses and their cybersecurity is complex with an ever-expanding attack surface across on-premises and cloud assets. Hackers will target the weakest spots, which emphasizes the need for greater visibility, rapid detection, dependable response, and adaptive security that will evolve with the changing threat landscape. So making the right choice when it comes to cybersecurity and security information and event management (SIEM). There are many choices out there to improve your security efforts and turning to MSEDP's IT services is a decision that will go a long way.
With cybersecurity services, the main issue is how to reduce cyber risk through continuous monitoring, rapid detection, and effective remediation in a way that is both practical
and affordable. MSEDP's cybersecurity services will protect your database, while not breaking the bank. Many businesses are finding cybersecurity success with managed SIEM services
that bring together virtually the most crucial technology and expertise for visibility and mitigation. When you turn to MSEDP, these are the services you will be getting. Make the call today and start better protecting your network. The number for our office is 631-761-7600. When you call, we can present a gameplan on how to best handle your IT services and SIEM in a way that fits your budget. As a result of our conversation, we will come up with a solution that will best suit your business's needs, budget restrictions, and resource requirements.
Advantages of SIEM
When it comes to security information and event management, it is important that businesses shift their mindset from "incident response" to "continuous response." By doing so, you are assuming you will be compromised at some point and look to seek a defense against the looming threats. If you are only worrying about cybersecurity after an incident happens, then you already lost. No business is immune to a cyber-attack, which means you should prepare for one to happen. SIEM is an effective cybersecurity solution that offers continuous detection of threats. However, SIEM is challenging to deploy correctly and manage full time, which is why turning to the IT team at MSEDP is a smart decision. With our leadership at the helm, we can utilize SIEM to safeguard your data and network. Over the years, SIEM has risen due to its many great advantages, which includes the following:
provides 24/7/365 monitoring and alerting.
addresses compliance mandates.
increases cybersecurity effectiveness.
decreases total cost.
overcomes many staffing challenges.
Take advantage of SIEM by opting for MSEDP's IT services today. Stay ahead of the curve!
Understanding the Different SIEM Solutions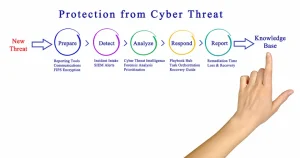 It is helpful to have a common understanding of the terminology and unique differences between the approaches to security information and event management. This way you can make an even more informed decision on how to better protect your assets. Due to the advanced threats in the climate today, the requirement for more advanced resources and technology has only grown. When it comes to SIEM solutions, there are four primary options available, which are DIY SIEM Software, SIEM-as-a-Service, SOC-as-a-Service (SOCaaS), and Co-Managed SIEM. Let's take a closer look at these four options.
DIY SIEM Software
This is a do-it-yourself option that involves businesses implementing the SIEM technology themselves or leveraging open-source tools in combination to add analytics, compliance, and log storage. If this is the route a business goes, it typically requires a larger team and higher level of expertise to not only implement the solutions, but also to manage, maintain, and tune these solutions over time. SIEM is not a "set it and forget it" type of technology. It requires a hands-on approach, which is also what the team at MSEDP can provide if you think doing it yourself is too much of an ask.
SIEM-as-a-Service (SIEMaaS)
SIEM-as-a-Service is also called "cloud SIEM." This option is basically Software-as-a-Service licensed on a monthly basis and hosted, maintained, tuned, and patched to work optimally. This way you do not have to worry about the infrastructure, log storage, or system administration. However, businesses will still have the responsibility to drive it to get value out of SIEM-as-a-Service. So you will need an IT equipped to handle the SIEM solutions.
SOC-as-a-Service (SOCaaS)
With this option, you receive the SOC "function" as a service, not just the software. With this option, you will be getting a team of people to orchestrate the solutions and the processes. You will also get all of the SIEM platform/tools necessary to perform the network and endpoint threat monitoring, detection, and response for your organization. MSEDP offers SIEM and log management. In a way, you can "set it and forget it" with this option since you are leaving it with our team of dedicated professionals to handle properly. But we will be on top of it at all times and most certainly not "forget it."
Co-Managed SIEM
Co-managed SIEM is a version of SOC-as-a-Service in which businesses can play a more active role in the shared responsibility of determining and carrying out the security operations strategy. A runbook with incident response (IR) and an operating playbook typically outline the shared responsibility tailored to your organization. This is a good option for businesses with an IT team, but perhaps one that is not big enough to handle all the aspects of SIEM. MSEDP can cater to your needs and provide you with IT services that fit your budget and scale.
How To Make a Decision
In order to make a decision on the best solution for your business, document your "must-have" criteria from "nice-to-have" considerations so that you do not solve for corner cases that may add complexity and cost. Of course, the most affordable is the DIY approach, but that is also one that leaves you stranded on an island in case this is an incident you cannot handle. Turning to the IT team at MSEDP ensures that someone is always there to help. Do not hesitate to reach out to MSEDP for the best in IT solutions and Security Information Event Management (SIEM) and event log management solutions.
Why Executives Should Be Involved in Cybersecurity
It is easy to leave the cybersecurity aspects of your business to your IT team, but when the executives and higher ups get involved in the goings-on with cybersecurity, then it is a big win for the business. Having an understanding of these aspects can help make major decisions down the road. Cybersecurity is a balancing act for any business, but a business that is too conservative might overlook advancements in the field of cybersecurity. Thus, putting the whole company at risk of attack.
Here are a few reasons why cybersecurity is an executive-level issue:
Cybersecurity impacts day-to-day operations, revenue, and reputation of the business.
Cybersecurity should be treated as an investment to better safeguard your business. It should not be treated as a cost that is expendable, which unfortunately many businesses do.
It is a cross-functional issue in that cybersecurity is everyone's responsibility since it impacts the entire business.
A business's appropriate cyber risk posture and data governance strategy is crucial and needs to be discussed at all levels.
By having the organizational leaders weigh in on these aspects, they can plan strategically for the business and determine what to prioritize with cybersecurity firmly in everyone's mind. It is important to emphasize the need to have these measures in place that will help any business save money and simultaneously reduce cyber risk. Keeping data and important information away from hackers and malignant attacks. At MSEDP, we ask all of our clients to carefully weigh the actual capabilities and timeline of security options that might seem on the surface to save you money, but do not fully protect you from threats. We are partners in this and we are proud to work with many businesses across the United States.
SIEM and Log Management With MSEDP
It is becoming more and more difficult to recognize breaches due to cyber attacks. Firewall and antivirus are no longer enough in this day and age since today's hackers are smarter than ever. So you need a smarter solution. MSEDP's powerful and dynamic Security Information Event Management (SIEM) and event log management solutions keeps an eye on all of your inbound and outbound traffic. We match the packets against an ever-growing database that triggers specific events.
The right SIEM solution varies based on your goals, use cases, budget, compliance requirements, and available staff. SIEM solutions are optimized for different use cases, so one size never fits all. The wrong choice of solutions can have a long-lasting impact, be costly to maintain and support, and time consuming to tune. This is why many SIEM deployments end up abandoned. And a big reason why you should turn your Security Information Event Management (SIEM) and event log management solutions over to MSEDP. Our IT team will give you a hands-on approach that will ensure you are safeguarded against threats, as well as be able to deploy measures immediately in the case of an attack. Stay protected when MSEDP is your managed service provider. Located in Deer Park, New York, we provide our IT services for clients across the United States!
If you have a website for your business, you are likely scared of it being hacked and infiltrated from outside sources. We have all heard stories of a hack tacking down a business and compromising the personal data of all the customers. This is a horrible act and one that sees consequences far and wide for a business. And it is a surefire way to lose the trust of the customer in the process. In the wake of all these incidents, it is more important than ever for businesses to take the proper steps to protect themselves from these cyber-attacks. One way to make sure you are taking the right steps is by hiring an IT team to implement a network monitoring and security monitoring solution.
Network monitoring allows you to keep track of all activity on your network. This way we can quickly identify and respond to any suspicious behavior. And security monitoring helps to detect and prevent malware and other threats from entering your network. By implementing both of these measures, you can help keep your business safe from cyber-attacks. Get the IT team at MSEDP to help today! We have years of experience working with companies across the United States and effectively prevent cyber-attacks with our managed services and 24/7 monitoring. Stay on top of the best and latest in the industry when you turn to the team at MSEDP.
In the meantime, let's take a look at the differences between network monitoring and network security monitoring and how these aspects apply to cybersecurity. Both of these aspects are important to the safety and security of any network and they work hand in hand with the IT services in full.
What is Network Monitoring?
Network monitoring is an IT process that monitors endpoints and servers within a network infrastructure in order to provide fault, performance and traffic insights. This monitoring also allows us, your tech team, to detect critical network issues, faults, and unavailability of network components, while being able to reduce the overall downtime. Having a network monitoring system in place also allows us to monitor the bandwidth utilization and reduce network congestion, which improves the overall performance of the network. It also allows for the remote availability monitoring of all assets and sends alert notifications to us for immediate attention. With our network monitoring tools, you get 24/7 monitoring for complete and total control of the network.
What is Network Security Monitoring?
Network security monitoring allows us to have insights and statistical data about the internal and external communications that originated or terminated within the network and implement security measures for protection of the network. In a nutshell, network security monitoring is the process that allows an IT team like us to effectively monitor the data flow and take all of the necessary steps in case of a discovered breach of security. Network security monitoring requires collecting, filtering, and analyzing logs from multiple data sources within the network. These data sources can include intrusion detection systems, intrusion prevention systems, firewalls, and more. This differs from network monitoring as it focuses on the security aspects and implementation of protection, whereas simple monitoring tracks other data and aims to keep the network running smoothly.
The logs are sent to a centralized solution typically called a Security Information and Event Management solution where the logs are converted into events and analyzed by professionals. Those professionals in this case would be us and we can assure you that the IT staff at MSEDP can effectively deploy measures that will keep your website and network safe from infiltration. We do so by following the best practices for these solutions, which allows us to stay on top of the game and keep your network running at optimal conditions.
Why is Network Monitoring Important
Now that we know what network monitoring is, let's learn why it is important.
Less Network Downtime
Service downtime causes both financial and reputational loss for any digital business. When a business website faces downtime, it places a lot of stress on the IT team and they are under pressure to quickly resolve the issue and get the monitoring service back up and running. When network monitoring is properly in place, it allows us to quickly identify the root cause of the issues. Whether it is a misconfiguration, traffic congestion, an interface link being down, or malicious activity, our team can identify the problem and start troubleshooting it. All in all, network monitoring ensures the downtime is as short as possible.
Quickly Identifies Security Threats
Security monitoring is simply not possible without the correct network monitoring in place. In order to correctly identify security threats, we need to ensure that the network monitoring covers every asset that is part of the entire network. This way we can identify traditional network behavior and set up a baseline for network traffic and be better prepared to identify any anomalies.
Prevents Network Outages
There are various reasons a network outage can occur, such as configuration errors, increasing complexity of technology, malware, and more. In order to prevent these outages from happening often, the proper setting up of network monitoring is a must. Its implementation allows us to stay one step ahead of any potential network issues by monitoring network interfaces for traffic congestion.
More Focus on Critical Operations
Due to the configuration of network monitoring systems, which delivers immediate pre-built dashboards, tech teams no longer have to waste time by manually digging into performance data. Manually troubleshooting a network issue is a very time-consuming process. But since the network monitoring tools make looking into problems much simpler, tech teams can spend time and resources on other more critical projects that improve the overall process of monitoring and network infrastructure. Leaving the network monitoring programs to run on their own.
Help Manage and Scale to Bigger Networks
The number of connected devices to the internet is always increasing. If you are a growing business, then you likely know the need to connect multiple devices to your network. All these devices carry equal importance for a business and are equally important when it comes to safety on the network. And over the years, remote capabilities have become more common and the need to connect remotely has only grown. In order to ensure the availability of all of these devices, all of the components must be proactively monitored and our deployment of network monitoring services will protect everything and everyone connected to the network.
Why is Network Security Monitoring Important?
Hackers and malware are constantly improving and finding new ways to infiltrate networks. So it is crucial to stay ahead of the game however you can and with network security monitoring you can! Network security monitoring allows for 24/7 monitoring of your network systems and quick response times that lead to little downtime. Having a proper network security monitoring system in place is important because it is a way to cover all of the bases of your network and leave no corner unprotected.
Assume there is a hack and the anti-virus fails to catch the malicious behavior in time and the attacker gains access to the network and its devices. It happens. Nothing is 100% certain, but if it does then the hacker has full access to all parts of the network and can do with it how they please. They can even lie in wait as you reveal all of your private data and information, leading to even bigger cyber-attacks that result in even more damage.
However, if proper network security monitoring in place, then this hack can still occur, but out tech team will be quickly notified that they beat the firewalls in place and immediately take the steps that eliminate the access. So, if you store and process sensitive data, such as financial information and cardholder data, then you are likely required by law to be compliant with the regulations. At MSEDP, we can help you get compliant and deploy the proper network security monitoring tools to get you on your way and protect your networks from all potential threats.
MSEDP Offers Professional Managed IT Services Nationwide
Technology is something that is always updating, so having the latest in IT services becomes more crucial. As a trusted managed service provider, we proudly offer the best and latest in IT services. There are many good reasons to outsource your IT services to a professional. We will work with you to come up with a plan that fits your business goals, as well as your budget. With MSEDP, you also get the personal touch. Because we know that not every business runs in the same manner.
Let's take a closer look at the top 9 reasons why you might turn to a managed IT service provider like MSEDP. When you turn to us for your outsourced IT services, you will get professional care and attention. And reap all of the benefits of a managed service provider. We are located on Long Island, New York, but we are a managed service provider that works with businesses nationwide. So if you are interested in turning to us, please give our office a call at 631-761-7600. When you call, we can go over why we are the msp for you! With our years of experience and dedicated IT team, we can launch your business into the future with many great IT services at your disposal.
#1 Save Money
The main reason to turn to a MSP is the savings in cost you will reap. We all like saving money, right? Well, when you turn to us as your managed service provider, our IT services will help to reduce the overall operational costs, decrease the overall capital budgets, lower hosting costs, and lower the overall cost of your IT services. It can be expensive to have your own in-house IT team and may even become a financial burden. So, for a fraction of the cost to have your own IT team, you can delegate those services to MSEDP and save money. Check out all of the services you can opt for when you turn to our IT services.
#2 Predictable Subscription-Based Costs
One of the perks of a managed service plan is the fact that it is subscription based. So you pay a monthly fee for the services. One that stays the same on a monthly basis, which helps you manage finances better. Of course the price changes if you change aspects of the plan, but the consistency in the plan allows you to budget for the future.
#3 Increase Your Productivity & Focus on Your Business
As your managed service provider, you can trust us to effectively manage all of your IT services. Which means you can spend your time elsewhere managing your business. Leaving the stresses of your IT services to us and thus increasing your daily productivity. We will ensure your office network, end-user systems, and overall software are up to date, secure, and running up to speed. By offering these services, you become more productive since you do not have to spend time on your end working on these aspects. And can then spend more time focusing on your business.
#4 Get Experts on Your Side
When you choose to work with a managed service provider like MSEDP, you get access to a team of experts in their field. Each member of our IT team is eager to help solve whatever problem that comes their way. And does so with an expert knowledge in the industry. So when a problem sprouts up, you know you are getting someone with proven experience to help you manage and get through any tech situation. You are in good hands with our IT team.
#5 Better Cybersecurity
Cybersecurity is a major consideration for any business. But as your managed service provider, we will help to quell your worries and mitigate any risks. We will implement the best practice solutions and latest software to ensure that you are protected against all sorts of issues that can arise. From firewalls, to disaster recovery, to anti-virus software, our IT services will protect you from online threats. Keeping your data and business safe.
#6 Access To The Latest Technology
As a long-time MSP on Long Island, we have been around the block when it comes to IT solutions. So we know the speed with which aspects become obsolete. Which means we are on top of any changes that come to the technology and industry as a whole. When you run the business, following the trends for new technology may not be at the front of your mind. But that is why you turn to a managed service provider you can trust! We have the wherewithal to handle the most complex updates and changes, so you don't have to. Keeping you up to date on all the matters that relay to your website and business.
#7 Managed Service Provider Can Act as a Supplement
When you turn to MSEDP as your managed service provider, you do not need to get rid of your internal staff. Instead, we can ably act as a supplement to your staff and provide additional resources that can help you run your business. We can take on certain issues and alleviate your staff on some duties, so they can focus elsewhere and work on their normal, day-to-day activities. But we will always be one call away to help should the situation call for it.
#8 MSPs Promote Scalability
If you need to downsize or increase resources, a managed service provider can help. We will ensure that your technology is standardized in a way to allow for scale in either direction. Helping you continue to run the business the way you need it to. Our IT team can evolve and grow with you and help you expand. So you won't need to worry about "if" you can grow, but "how" can you grow.
#9 Customizable Plans
When you turn to MSEDP as your managed service provider, you have the opportunity to customize your plan. We make it simple and easy for you to get the most out of our IT service team. Pay for exactly what you need. And we will work closely with you on a daily basis. Always there for your when you need it. Check out our managed services and what we offer.
MSEDP Is A Trusted Managed Service Provider
MSEDP is headquartered on Long Island, New York, but we offer our managed IT services for clients across the United States. That is the beauty of technology. We can help you run your business from anywhere! Technology is improving on a constant basis, so staying on top of it will allow you to effectively run your business. And our managed services will make sure you are functioning at the highest level possible.
If you read through these reasons and think you want a MSP, then please contact us today. We will happily answer any questions or concerns you may have regarding our managed service plans and all that comes with it. Take advantage of the #1 managed service provider on Long Island!
It is important that you get the most out of your IT budget. When you choose MSEDP's managed IT services you will be getting the most for your money! Our all-inclusive managed services packages are designed to provide system monitoring, maintenance, and troubleshooting like a full-time IT staff, but at a fraction of the cost. So please, give us a call today for more information. Learn about all the benefits our IT services can provide! The number for our office is (631) 761-7600. When you call, we can provide you with a free, no-obligation consultation. In this call, we will go over all of the various price points for the packages and how they benefit your website and business.
The Best Managed IT Services For Your Money
With a managed service package from MSEDP, we'll use remote technology to monitor the health of your computers and network around the clock. So you can breathe easy at night knowing you're in safe hands! We'll perform system updates, virus prevention, and removal, data backup checks, essential maintenance, and troubleshooting. All of this is done without interrupting your workday with a support visit. However, you can get free on-site support hours, priority response times, and discounted rates for installations and projects depending on the monthly package you choose. We will come to you to help, within reason of course. MSEDP offers its managed IT services out of its Deer Park location, which is on Long Island, New York. So figure reasonable driving distances apply. Select from our bronze, silver or gold managed services packages.
Unlimited Helpdesk Support
When you choose MSEDP, you get our FREE Unlimited Helpdesk Support. This service comes with any of our managed services packages. This affords you the opportunity to call us any time you have an issue with a covered device. And you will not get charged extra. Outlook not opening? Internet slow? Screen upside down? Forgot your password? All of this is covered when you select one of our managed IT service packages. Call as many times as you want for one low price each month. We have bronze, silver and gold packages depending on your allotted budget and needs.
24/7 Monitoring
MSEDP offers cutting-edge software as part of our managed IT services. We get alerted when systems are acting up or are down. Even if it is two in the morning. This 24/7 monitoring allows us to be proactive rather than reactive. And, most importantly, it ensures that you are running optimally during business hours. So no matter what time of day it is, our monitoring services will be able to catch it.
Call To Learn More About Our Managed IT Services
MSEDP has years of experience offering affordable managed IT services that you can trust. We are located on Long Island, New York, but our managed IT services are available for clients nationwide. So please, do not hesitate to reach out and learn more about our capabilities. For more information, please contact us today. We will happily answer any questions or concerns you may have regarding our services. The number for our office is (631) 761-7600. When you call, we can provide you with our pricing options. We look forward to helping you however you need it!