The modern threat landscape for businesses and their cybersecurity is complex with an ever-expanding attack surface across on-premises and cloud assets. Hackers will target the weakest spots, which emphasizes the need for greater visibility, rapid detection, dependable response, and adaptive security that will evolve with the changing threat landscape. So making the right choice when it comes to cybersecurity and security information and event management (SIEM). There are many choices out there to improve your security efforts and turning to MSEDP's IT services is a decision that will go a long way.
With cybersecurity services, the main issue is how to reduce cyber risk through continuous monitoring, rapid detection, and effective remediation in a way that is both practical
and affordable. MSEDP's cybersecurity services will protect your database, while not breaking the bank. Many businesses are finding cybersecurity success with managed SIEM services
that bring together virtually the most crucial technology and expertise for visibility and mitigation. When you turn to MSEDP, these are the services you will be getting. Make the call today and start better protecting your network. The number for our office is 631-761-7600. When you call, we can present a gameplan on how to best handle your IT services and SIEM in a way that fits your budget. As a result of our conversation, we will come up with a solution that will best suit your business's needs, budget restrictions, and resource requirements.
Advantages of SIEM
When it comes to security information and event management, it is important that businesses shift their mindset from "incident response" to "continuous response." By doing so, you are assuming you will be compromised at some point and look to seek a defense against the looming threats. If you are only worrying about cybersecurity after an incident happens, then you already lost. No business is immune to a cyber-attack, which means you should prepare for one to happen. SIEM is an effective cybersecurity solution that offers continuous detection of threats. However, SIEM is challenging to deploy correctly and manage full time, which is why turning to the IT team at MSEDP is a smart decision. With our leadership at the helm, we can utilize SIEM to safeguard your data and network. Over the years, SIEM has risen due to its many great advantages, which includes the following:
provides 24/7/365 monitoring and alerting.
addresses compliance mandates.
increases cybersecurity effectiveness.
decreases total cost.
overcomes many staffing challenges.
Take advantage of SIEM by opting for MSEDP's IT services today. Stay ahead of the curve!
Understanding the Different SIEM Solutions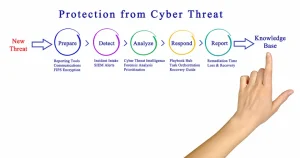 It is helpful to have a common understanding of the terminology and unique differences between the approaches to security information and event management. This way you can make an even more informed decision on how to better protect your assets. Due to the advanced threats in the climate today, the requirement for more advanced resources and technology has only grown. When it comes to SIEM solutions, there are four primary options available, which are DIY SIEM Software, SIEM-as-a-Service, SOC-as-a-Service (SOCaaS), and Co-Managed SIEM. Let's take a closer look at these four options.
DIY SIEM Software
This is a do-it-yourself option that involves businesses implementing the SIEM technology themselves or leveraging open-source tools in combination to add analytics, compliance, and log storage. If this is the route a business goes, it typically requires a larger team and higher level of expertise to not only implement the solutions, but also to manage, maintain, and tune these solutions over time. SIEM is not a "set it and forget it" type of technology. It requires a hands-on approach, which is also what the team at MSEDP can provide if you think doing it yourself is too much of an ask.
SIEM-as-a-Service (SIEMaaS)
SIEM-as-a-Service is also called "cloud SIEM." This option is basically Software-as-a-Service licensed on a monthly basis and hosted, maintained, tuned, and patched to work optimally. This way you do not have to worry about the infrastructure, log storage, or system administration. However, businesses will still have the responsibility to drive it to get value out of SIEM-as-a-Service. So you will need an IT equipped to handle the SIEM solutions.
SOC-as-a-Service (SOCaaS)
With this option, you receive the SOC "function" as a service, not just the software. With this option, you will be getting a team of people to orchestrate the solutions and the processes. You will also get all of the SIEM platform/tools necessary to perform the network and endpoint threat monitoring, detection, and response for your organization. MSEDP offers SIEM and log management. In a way, you can "set it and forget it" with this option since you are leaving it with our team of dedicated professionals to handle properly. But we will be on top of it at all times and most certainly not "forget it."
Co-Managed SIEM
Co-managed SIEM is a version of SOC-as-a-Service in which businesses can play a more active role in the shared responsibility of determining and carrying out the security operations strategy. A runbook with incident response (IR) and an operating playbook typically outline the shared responsibility tailored to your organization. This is a good option for businesses with an IT team, but perhaps one that is not big enough to handle all the aspects of SIEM. MSEDP can cater to your needs and provide you with IT services that fit your budget and scale.
How To Make a Decision
In order to make a decision on the best solution for your business, document your "must-have" criteria from "nice-to-have" considerations so that you do not solve for corner cases that may add complexity and cost. Of course, the most affordable is the DIY approach, but that is also one that leaves you stranded on an island in case this is an incident you cannot handle. Turning to the IT team at MSEDP ensures that someone is always there to help. Do not hesitate to reach out to MSEDP for the best in IT solutions and Security Information Event Management (SIEM) and event log management solutions.
Why Executives Should Be Involved in Cybersecurity
It is easy to leave the cybersecurity aspects of your business to your IT team, but when the executives and higher ups get involved in the goings-on with cybersecurity, then it is a big win for the business. Having an understanding of these aspects can help make major decisions down the road. Cybersecurity is a balancing act for any business, but a business that is too conservative might overlook advancements in the field of cybersecurity. Thus, putting the whole company at risk of attack.
Here are a few reasons why cybersecurity is an executive-level issue:
Cybersecurity impacts day-to-day operations, revenue, and reputation of the business.
Cybersecurity should be treated as an investment to better safeguard your business. It should not be treated as a cost that is expendable, which unfortunately many businesses do.
It is a cross-functional issue in that cybersecurity is everyone's responsibility since it impacts the entire business.
A business's appropriate cyber risk posture and data governance strategy is crucial and needs to be discussed at all levels.
By having the organizational leaders weigh in on these aspects, they can plan strategically for the business and determine what to prioritize with cybersecurity firmly in everyone's mind. It is important to emphasize the need to have these measures in place that will help any business save money and simultaneously reduce cyber risk. Keeping data and important information away from hackers and malignant attacks. At MSEDP, we ask all of our clients to carefully weigh the actual capabilities and timeline of security options that might seem on the surface to save you money, but do not fully protect you from threats. We are partners in this and we are proud to work with many businesses across the United States.
SIEM and Log Management With MSEDP
It is becoming more and more difficult to recognize breaches due to cyber attacks. Firewall and antivirus are no longer enough in this day and age since today's hackers are smarter than ever. So you need a smarter solution. MSEDP's powerful and dynamic Security Information Event Management (SIEM) and event log management solutions keeps an eye on all of your inbound and outbound traffic. We match the packets against an ever-growing database that triggers specific events.
The right SIEM solution varies based on your goals, use cases, budget, compliance requirements, and available staff. SIEM solutions are optimized for different use cases, so one size never fits all. The wrong choice of solutions can have a long-lasting impact, be costly to maintain and support, and time consuming to tune. This is why many SIEM deployments end up abandoned. And a big reason why you should turn your Security Information Event Management (SIEM) and event log management solutions over to MSEDP. Our IT team will give you a hands-on approach that will ensure you are safeguarded against threats, as well as be able to deploy measures immediately in the case of an attack. Stay protected when MSEDP is your managed service provider. Located in Deer Park, New York, we provide our IT services for clients across the United States!
MSEDP offers professional Security Information and Event Management (SIEM) and log management that keeps your website safe and running smooth. As we progress into the future of cybersecurity, it becomes harder and harder to recognize when there is a breach or infection. The hackers and malware is always improving. So it is vital that your security measures improve, too. Firewalls and antivirus protection alone is no longer enough. MSEDP's powerful Security Information and Event Management (SIEM) and event log management solutions keeps an eye on all of your inbound and outbound traffic. We will match the packets against an ever-growing database that triggers specific, harmful events.
So turn to MSEDP for IT and cybersecurity services that you can trust! Learn more about the benefits of our cybersecurity protection plans. For more information about our IT services in general, please contact us today. When you reach out, we can further discuss our various protection packages. As well as go over the benefits of having professional security information and event management at your side.
What is SIEM?
SIEM stands for Security Information and Event Management. SIEM is a set of tools and services that offers a holistic view of an organization's information security. When you turn to MSEDP for SIEM, you will be getting your cybersecurity from a trusted professional in the industry. We have the tools to protect you from any threats on the internet.
SIEM provides tools to keep your website protected. Here are some of the benefits of security information and event management from MSEDP:
Real-time visibility across a company's information security system.
Event log management that consolidates data from multiple sources.
We gather information from different logs and sources and provide a correlation of events to keep your website safe.
Get automatically notified of security events.
So for SIEM tools that are effective and reliable, turn to MSEDP. We help small business websites across the country stay secure. And we offer affordable maintenance packages.
How Does Security Information and Event Management Work?
In a nutshell, security information and event management works by combining two technologies: Security information management, or SIM, and security event management, or SEM. SIM collects data from your log files for analysis and reports on any security threats and events taking place. And we combine with SEM, which conducts real-time system monitoring, notifies network admins about pressing issues and aims to establish any correlations between security events. So you get complete security enhancements with SIEM.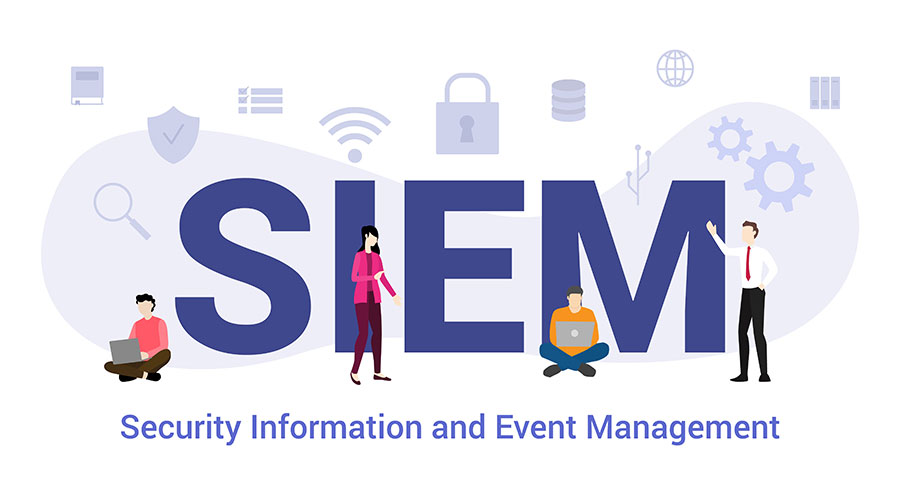 The security information and event management process breaks down as such:
Data Collection
We configure all sources of network security information to feed event data into our SIEM tools. These sources include servers, firewalls, antivirus software, and operating systems. We collect, process and filter these results to determine any threats.
Data Consolidation & Correlation
Our SIEM solutions consolidate, parse and analyze all incoming log files. We then categorize the events based on the raw data and apply any necessary correlation rules by combining individual data events into meaningful security issues and measures.
Policies
Each account will of course have its own profile. We define the parameters of the SIEM and effectively set the rules to detect any issues. We set the normal conditions against any pre-defined security incidents in order to catch a problem before it explodes. SIEM provides default rules, reports, and alerts. We will customize these options to best suit your needs.
Notifications
Lastly, if an event or set of events triggers a SIEM rule, the system notifies security personnel. So the issue gets stopped in its tracks.
SIEM & PCI compliance
Many companies and businesses mandate your site to comply with a cybersecurity framework. This can be vendors, the government, or a client. You will need to be compliant in order to be in business with these partners. So it is imperative to become compliant, otherwise you will lose out on business. But whatever the reason, MSEDP can help! We work with CISSP's to make sure your company is compliant with many different security frameworks, which includes NIST, PCI, ISO 27001/2, and CIS. All of these compliance projects begin with a risk assessment, which MSEDP offers.
The SIEM tools MSEDP uses can help an organization become PCI compliant. This security standard reassures a company's customers that their credit card and payment data will remain safe from theft or misuse. So everyone involved has a little peace of mind when it comes to the site's security.
PCI Requirements
A SIEM can meet the following PCI requirements:
Search For Insecure Protocols
Proper SIEM is able to document and justify the use of an organization's allowed services and protocols. On top of that, security information and event management services documents security features implemented for any insecure protocols.
Detect an Unauthorized Network Connection
When you need to be PCI compliant, you need a system that can detect all unauthorized network connections to and from a company's IT assets. MSEDP utilizes effective security information and event management solutions to help manage such a situation.
Traffic Flow Inspection Across DMZ
A demilitarized zone, or DMZ, is a perimeter network that protects an organization's internal local-area network (LAN) from any untrustworthy traffic. For many, a common DMZ is a sub-network that sits between the public internet and private networks. However, PCI compliant organizations need to use a DMZ that effectively manages the connection between an untrusted source like the internet and its web server. As you can imagine, this may be a large undertaking.
Also, any inbound internet traffic to IPs inside the DMZ must be limited. All the while, effective SIEM must also evaluate outgoing traffic. So this is a give and take process of enormous magnitude. Our state-of-the-art security information and event management services can meet these requirements and inspect all the traffic that flows across the DMZ space to and from your internal systems. And report on any and all security issues that arise. So your security system is aware before the threat can take hold and cause problems.