SEO is a crucial aspect for small businesses to get ahead of their competition and fully grow their business. That is why MSEDP is proud to offer search engine optimization for all types of small businesses across Long Island, New York, as well as nationwide! When you turn to us, you will get clear, professional writing that will promote your company's point of view, address your target audience specifically, deliver your marketing message, which will result in higher web traffic and sales.  So please, if you are interested in our SEO services for your growing small business, give us a call. The number for our office is (631) 761-7600. When you call, we can go over all of the details and benefits of choosing our search engine optimization services.
Why Small Businesses Should Choose MSEDP For SEO
Our expert SEO consultant will work with you to help get your website seen and push you ahead of the competition. We are a small business ourselves and we pride ourselves on providing a personal touch with our clients. You will not be added to some long list of websites we work on and never hear from us again. On the contrary, you will hear from us on a monthly basis as our SEO experts provide you with detailed reports and update you on the progress of the website. And by staying in touch with us, you will be able to quickly give us new focuses for the business, as well as update the keywords we came up with together. As a long-time SEO provider, we understand how quickly things can change and we will do our best to adapt on the fly with you.
Move Ahead of the Competition
Competition is a prominent factor in determining where your site is ranked for a specific keyword. No matter your industry or business, you will be competing for the same internet real estate. Dozens, if not hundreds, of other small businesses are working to get to that top spot, which is why SEO is so crucial. When you get the help of MSEDP, you will move ahead of your competition. We will target keywords that are not are general and highly searched and locate that sweet spot. This way you'll still get the web traffic and visibility, but without a longer wait than necessary with organic SEO.
User-Friendly Websites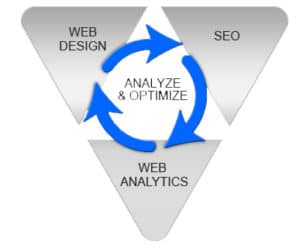 SEO helps small businesses create a faster, smoother, and user-friendly website for their customers. Many people still cling to an older definition of SEO. They think it is only about optimizing for the search engines. However, the search engines are merely one piece of the puzzle. Today, SEO for small businesses is also about improving user experience on the website. At MSEDP, we can give your website a facelift and improve all the bells and whistles. And create a more SEO-friendly site that will keep people on your site.
Get A Captive Audience
A well-structured, clean, and uncluttered website will compel a casual visitor to stay longer. Thereby decreasing the bounce rate and increasing page views. This is important for the health of your website and for the search engine optimization. Pageviews and user interaction can actually boost your site's SEO. And if people bounce right off? Well, you guessed it, that will hurt your website. At MSEDP, we can redesign your website to make it more stylish and keep a captive audience, which in turn improves your site's SEO.
Create Interesting Content
Similarly, highly relevant content, such as sales pages and blog articles such as this, keeps your readers happy and engaged. This on-page SEO will not only make your users happy, but search engines too! They love to serve high-quality information to their users. So if they deem the content interesting, then you have more of a likelihood of jumping up the search engines. When you choose MSEDP's search engine optimization services, an SEO expert will create interesting and engaging content on a monthly basis. Always aligning with your marketing goals. So you can just sit back and reap the rewards of higher web traffic. And the great thing about organic SEO campaigns is that they grow. The more clicks a site gets, the more authority it gains. These web pages are evergreen and will be paying off for years to come!
Save Money By Moving Away from Ads
Google Ads is a great way to jump to the top of the rankings. But you are paying for that position and depending on the keyword, you might be paying a pretty penny to be there. The more highly searched a keyword, the more Google will make you pay. But when you opt for organic SEO, you will be getting content on a monthly basis that stays there. It is an investment that will save you money in the long run. The SEO services we offer for small businesses is especially helpful, as money might be tighter. So any savings is worthwhile.
The Best SEO Services For Small Businesses!
Not receiving results from your current web content? Can't find the right words to say? Then reach out to MSEDP and try their extensive SEO services for small businesses. As a top SEO Company on Long Island, New York, MSEDP will get you to the top of the search rankings. Our professional web content writing creates clear and engaging content that gets picked up by Google. When you turn to us, we will consult with you regarding your website and marketing goals and come up with keywords that align with your goals.
Even though our company is located on Long Island, we work with websites nationwide! For more information about our search engine optimization for small businesses, please contact us today. We will gladly answer any questions or concerns you may have regarding improving your SEO. The number for our office is (631) 761-7600. We look forward to helping your small business!