Let's be honest right off the bat here, in 2021 there is almost no reason to not have a website. How the website functions is another matter, but at least having a website is important. Because the fact of the matter is that many customers and business partners will not take your business seriously if you do not have a website. That is just the reality of the world we are living in.
And we here at MSEDP help small businesses on Long Island, New York and throughout the United States build their business by building beautiful websites for them. We will work closely with you through every step of the way to enable to have a website that perfectly aligns with your business model. From the design to the content, to the marketing, MSEDP offers the best web services at affordable prices.
So please, if you have any questions about building or upgrading a website, reach out to us today. You can fill out a contact form and we will get back to you as soon as possible. Or you can give our office a call by dialing 631-761-7600. When you call, we can provide you with a free, no-obligation consultation to go over what your small business needs in terms of a website. Let's take a look at some of the biggest benefits small businesses get when the websites work for them!
Develop an Online Presence
As mentioned, many customers will not take a business seriously without having a website. So when you have a website, you also have the opportunity to develop and grow an online presence. When people hear about a new business, the first thing they will do is look it up. If you do not have a website, or your website is out of date, then that makes a bad first impression. And that is bad for business.
On top of that, having a fully functioning website helps to shape the way people perceive your business. When you build or upgrade a website with MSEDP, we will make sure you get everything you need in order to showcase what your small business does well. We can add photos, reviews and other helpful information to allow potential customers to see what you are all about!
Small Business Websites Target Local Customers
For many businesses, targeting a local customer base is crucial. This holds especially true for any business that offers a service, like restaurant or laundromat. Many people want to know what is in the area, so having a website that reach a local audience is huge. And furthermore, you want that visibility of showing up at the top of page one.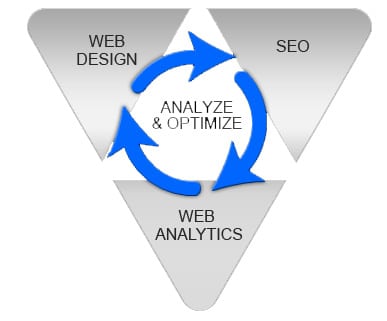 This practice is called search engine optimization, or SEO, and MSEDP can help you achieve this goal. We build SEO-friendly websites for small business. And you can add new, interesting content on a regular basis to show Google that you are worthy of that top spot. Don't have the time? We also offer top-of-the-line SEO services to help grow your website's visibility. Landing at the top of the search engines will bring in some extra business and this is all down by targeting your local audience with a website. Not only that, but a well-done website also serves as brand awareness. It can get your marketing message across to your audience without them even realizing it.
Simple and Easy Contact Information
When you have a website, you have a simple and easy way for potential customers to contact you. And even better, a simple way for them to know where your business is located. So there is no wasted time in figuring out how to get there. They can simply see your address and drive over.
Ideally, your website will include your full address. When we build your website, we can also put a map on the contact page. This way people can get immediate directions by clicking on the map. And if that's not enough, we can also add instructions on how to find your business. This way people have all the possible options to find your business.
Also, important to show your customers is your phone number, email address and any other contact details. Prominently displaying your phone number means people can quickly call you if they have any questions. You do not want potential customers wasting time figuring out how to reach you.
And that is simply contact information on the contact us page. When we build or upgrade your website, we can add a easy-to-follow contact form. Many small business websites opt for this route anyway, since they can answer emails on their own time instead of always answering the phone and breaking up what you're doing.
So, in a nutshell, it is important to have multiple ways for customers to get in touch with you. We can even install a live chat feature if that is something you are interested in. But making sure they can easily contact you means more potential customers.
Sell Products Online with Small Business Websites
Many small business websites want to sell their products online. And when you turn to MSEDP for the new and improved web design, we can help you achieve just that. E-commerce websites are such an important factor for any business and our web design team can help you sell your products online.
Many potential customers we speak to believe selling online is a big undertaking. However, setting up an online store is actually relatively easy. And you can even integrate your regular business site with it. When you sell online, you have the opportunity to sell products after you close. This allows small businesses and their websites another avenue to make sales. You are not restricted to the certain hours your physical business is open.
Email Marketing
In the old days, the ways to market your business were limited. You can spend the money on a TV ad. Take out a page in the local newspaper. Or send out mailing flyers. However, a website allows small businesses to better market their services and products. And offers a better way to reach an audience.
In a way, the website itself is a marketing tool. As we mentioned, effective SEO services brings you right to the top of many Google searches. And you can link a website to social media campaigns. And any latest news can be published right on the site itself, bringing exposure to your brand.
But one last tactic is email marketing. At MSEDP, we can set up an email marketing campaign where you can target people who are actively interested in your business. They sign up for a newsletter and we send out an email. You can put sales, new products, or any sort of information you'd like in the email.