When you have a website, you wonder about protecting your data. It's natural. Keeping your information safe and secure is a top priority. At MSEDP, we offer web clients with dependable IT services that will keep your data and information safe. When you turn to our IT service packages, you will get free help desk support, 24/7 monitoring, and the best in cyber security management. Along with many other great features.
So you can rest assured that your data is safe. We utilize the latest technologies in order to fight new malware, bugs and hackers. And in the case of a breach or any other mishap that compromises your data, our backup and disaster recovery systems will restore your data and information in no time.
For dependable IT services, turn to MSEDP of Long Island! Get affordable IT services to suit your budget without compromising the data protection you desire. Learn more about our managed IT services and how they can help keep your small business safe and secure at all times. Now, let's take a deeper look into the technologies and best practices to use when protecting your data.
Common Data Protection Technologies
When it comes to the protection of your data, it is important to stay up to date on the latest technologies. As an IT company, we fully understand this importance. There are many options to choose from, so navigating that field can be tricky. The best solutions will help your website restrict access, monitor all activity, and promptly respond to malicious threats. At MSEDP, we offer software and protection at an affordable cost.
Let's take a closer look at some of the common data protection technologies IT software utilizes. By familiarizing yourself with these topics, then you can more accurately come to a decision on what works best for you.
Data Loss Prevention (DLP)
Data loss prevention is a set of tools, along with strategies, that are set in place to prevent data from being stolen, lost or deleted. DLP solutions often incorporate multiple tools to protect against and recover from data loss, since putting all your eggs in one basket is often not the wisest move. Having a plan in place will help you stay calm and composed in case of a problem.
The Use of Firewalls
Effective firewalls safely enable users to monitor and filter network traffic. By using a dependable firewall, you can ensure that only authorized users are able to access or transfer important data. Learn more about the benefits of using a firewall.
Data Encryption
When you effectively use encryption for your data and website, you are protecting your data even if it is stolen. Encryption makes the data unreadable by using an algorithm that can only be read using the right encryption key. Without it, the data is useless. This is a great way to ensure your data can never be read, even during a breach. A great safeguard against online theft.
Authentication & Authorization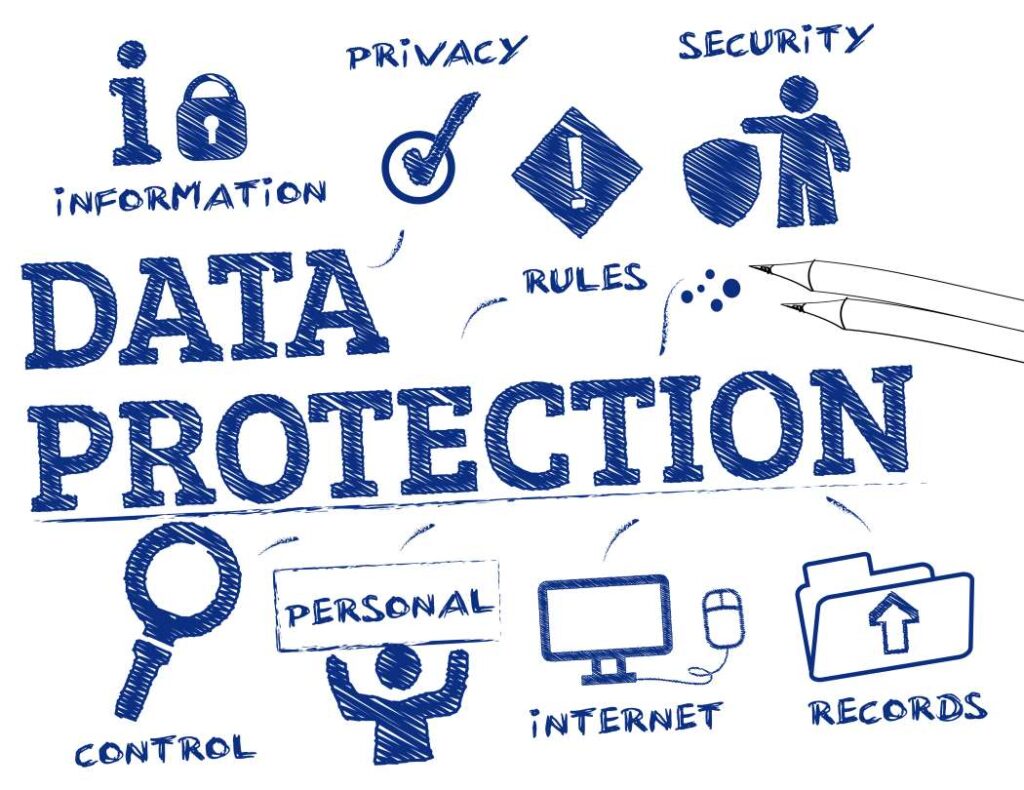 By taking steps of authentication and authorization, you are controlling the verified credentials of users who have access to the data. Ensuring the privileges are dolled out properly. Limited access to users keeps the circle tighter, thus lowering the risk of a data breach.
Endpoint Protection
The utilization of endpoint protection with protect the gateways to your network. This protection includes ports, routers, and other connected devices. Endpoint protection software is great at filtering traffic and allows you to monitor your network, too.
Erasing Unnecessary Data
When you have data that you no longer need. Delete it! Users can safely erase data after it is processed and analyzed. Or do so when that data is simply no longer relevant to your operations. And truthfully, erasing unneeded data is often regulated and is required due to compliance laws. When you have less data to steal, you are lowering the odds of being compromised.
Best Practices For Data Protection
It is important to establish some best practices for data protection. Knowing what works and what doesn't is a large part of the fight against malware and malicious threats. At MSEDP, we put policies in place to help with the protection of everyone's data. Here are some common practices many in the IT industry utilize to keep websites safe and secure.
Only Use Minimal Data Collection
One way to lower the risk of data loss is to simply collect less of it. Have policies in place that lead to only having the collection of data that is absolutely necessary to your operations. When you collect more than what you need, then you are in turn increasing your overall liability. And thus create an undue burden on the security measures in place. So when you minimize your data collection, you can save on storage and improve your overall protection. It is always easier to protect less data than more data.
Utilize a Data Inventory
It is really helpful to protect data when you know what it is you are protecting. Organization is key. So, understanding exactly what you have, how to properly handle it, and where you need to store it goes a long way in terms of effectively protecting your data. Have policies in place that dictate how to collect and save the information.
Inform the User
It is 2021. Most people on the internet know there is data collection for every site they enter. However, it is still helpful to inform the user about the potential data collection. Being transparent helps and makes the user less wary of using the website. By asking their consent before entering the site, you can draft up a privacy form that let's them know what it is you are collecting and if they are okay with it.
Contact MSEDP Today
The topic of protecting data is a very broad one and encompasses a lot of details. So it is important to turn to an IT team you can trust to handle whatever specific issue you need. Dependable data protection procedures can effectively prevent data loss and corruption. And in the case of a breach, drastically reduce the damage. At MSEDP, we utilize the newest technologies and stay up to date on the best practices and methods to keep your sensitive data and information safe.
For more information about our IT and web services, please get in touch with us today. You can fill out a contact form or call our office at 631-761-7600. When you reach out, we can provide you with a no-obligation consultation to go over any of the IT or web services we offer. Please check out more about our IT services and web services available to clients from across the USA.