Microsoft Teams has become a crucial tool for many businesses and companies over the last few years, especially for those who have remote workers. And MSEDP helps companies utilize the benefits of Office 365 and its many great applications, including Microsoft Teams.
When you opt to use Microsoft Office 365 and the Teams feature, then you are opening up you and your business to a world of possibilities. Not to mention many wonderful benefits that will help you run your business and coordinate operations. Microsoft Teams is the go-to option for any staff working remotely, as it will help keep everyone in touch and on the same page. But you do not need to be remote to gain the benefits of using Microsoft Teams.
Learn more about the benefits of using Microsoft Teams. And get the help of MSEDP to help get you set up with it!
Streamlines Work and Saves Time
The number one benefit of utilizing Microsoft Teams is how it can act as a hub for your team, streamlining your work and saving everyone on staff valuable time. It brings together chat, meetings, calls, and all Office 365 apps. As well as allowing for the integration of third-party tools. By having everything in one place, you save time by not needing to jump around from platform to platform. And as a result the team works better together and becomes more productive.
One of the ways to do this is with streamlined file sharing, which benefits both employees who seek to collaborate, as well as IT companies that want to maintain data security. It enables users to create a shareable link for any file that gets stored in Teams and sets the right permissions. You can set who can see what by setting up the file share permissions, which is something we can help you with once you go down that route. But it is a great way to keep items safe and secure and being seen by the right people.
Simple & Easy-To-Manage Video Meetings
Setting up a video meeting can be tricky, especially for anyone who is not tech-savvy. But with Microsoft Teams, it is simple and easy to host video meetings and conferences. And their features make these meetings even more effective. One such feature is automatic noise suppression, which removes any potential background noise and makes everyone easier to hear. No more straining to hear someone speak on chat because of something happening behind them.
When joining a meeting, the launcher provides clear options on how to do so. All users are prompted to join the meeting online, with the downloaded Teams client, or join the native Teams client. And there is also an end-of-meeting notification that automatically alerts all participants when there are 5 minutes remaining in a meeting, so they know to start wrapping up. From beginning to end, teams makes meetings and conference calls easy!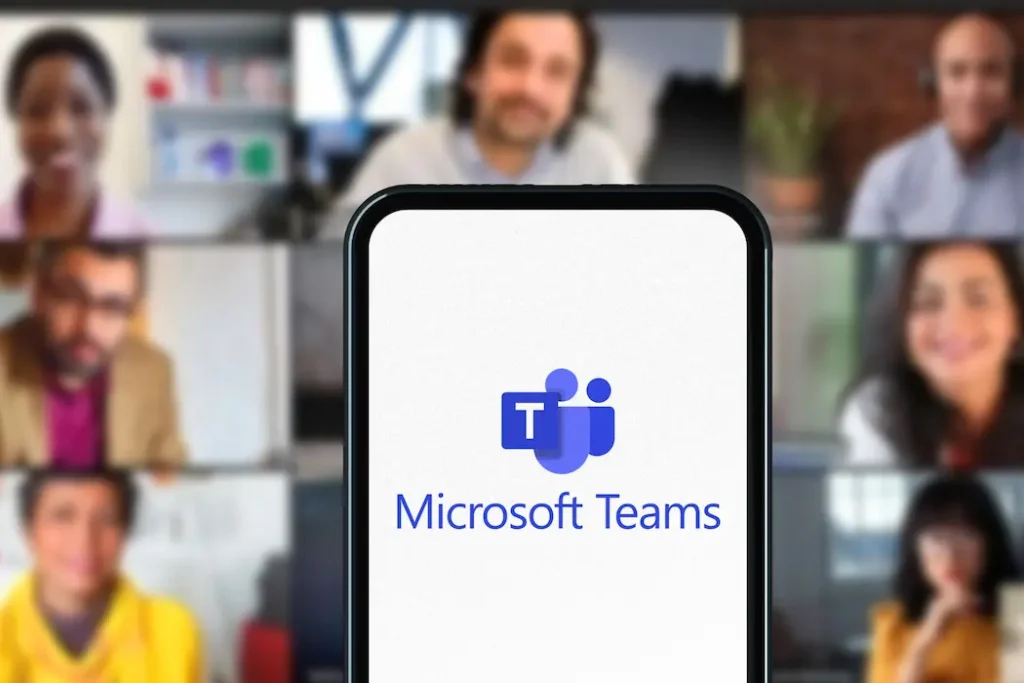 Seamless Collaboration with Microsoft Teams Apps
When you use Microsoft Teams, you can collaborate with your coworkers seamlessly by using many great features. Let's take a look at some of these wonderful features you get when using Teams.
Tagging
Users can create and manage tags in order to reach the right people faster in Teams chats and channels. The tagging capability allows you to better organize and categorize people in Teams based on roles, projects, skills, location, or expertise. However you want to structure the employees, Teams is there to manage them. Saving you time and effort when getting work done.
Shareable Calendars
There is a shared calendar app that allows you to create and share a calendar with specific people or specific channels. So when you schedule a new meeting, a notification is posted in that channels' feed. Alerting only those who need to know the information. Another great way to organize the workplace and update people on a need-to-know basis. And no inundating people with scheduled meetings they are not even going to attend.
Approvals
The Approvals feature in Teams allows you to create, share, and manage approvals directly from Teams. This includes client agreements, expense reports, and more. Anything that needs the approval of someone. You can send a new item for approval from a Teams chat or a channel conversation and the Approvals app tracks all previous and pending approval requests. Get the status, source, requesting party and all approvers with the Approvals app. No more searching random documents when you have Teams to organize all the important ones for you! And once there is an approval, it quickly updates all who need to know, so there is less downtime in waiting have needing to check it about a status update.
Offline Auto-Send
The Offline Auto-Send feature allows users to stay productive even without an internet connection. When a user is offline, their Teams messages are queued on their local device, which get automatically sent out once the device is back online. With this simple feature, you can answer emails and get other work done offline. And once you get the internet, those messages and emails automatically get sent out. Saving both time and the hassle of going back to click "send."
History Menu Functionality & Teams Displays
One of the greatest killers of productivity is switching between platforms or interfaces. However, with Teams, it packages all of Office 365 in one spot and through one interface. Which reduces the need to jump between apps, tasks, and projects.
The history menu for any Teams desktop client further builds on this functionality and enables all users to quickly return to places that they have recently visited. Which includes items such as activities, channels, conversations, tabs, files, apps, and anywhere else teams can go. This way you are not wasting time searching for something across platforms. With everything through Teams' History Menu, you can quickly backtrack without losing productivity and find exactly what you are looking for.
Makes Conversations & Connections More Meaningful
Teams is a great way of keeping a remote workforce in touch with one another. Despite being apart, workers still want some human connection. With Teams and its various features, it makes conversations and connections more meaningful. It does so with breakout rooms, live reactions and together mode.
Breakout rooms are perfect for larger workplaces that are looking for more focused operations. Hosts can set up smaller groups for brainstorming and meetings and hop into any of the rooms to check in. And at the end bring everyone back to the main group. Sometimes it is easier to discuss something in smaller groups first then bring the conversation to more people afterwards. Once ideas have been thought through.
Live reactions allow participants to better express themselves in meetings by choosing from four different options: like, love, applause, and laugh. Get clear communication through non-verbal chat with live reactions while in a live meeting. Instant feedback. And a great way to get a sense of how people are thinking without any interruptions.
Lastly, with together mode, everyone in the meeting can be in the same virtual space, such as the same meeting or conference room. Or you can make it more fun, like an outdoor theater. But no matter the setting you choose, it is still better than being in your own box. This feature allows people to feel like they are together when they are not, which can lead to more effective meetings. And at the very least bring a sense of camaraderie.
Keeps Everyone Informed With Bulletins & Milestones
You may have gotten this sense already, but the use of Microsoft Teams keeps everyone informed. Aside from all of the ways already discussed, Teams also utilizes bulletins and milestones in order to keep everyone informed about the goings-on of the workplace.
The bulletins app can be easily integrated within the Teams software and provides a space where managers can post memos, announcements, and other company news. Videos and images can be posted in this space too. And the app is optimized for mobile devices, so employees will never miss important updates or alerts.
And with the Milestones app, it is a central place to plan, track, and update the progress of work items and projects. All of the users can track tasks by owners and status, or view them in updates in the activity log. Get a full 360-degree view of a project from beginning to end. With it, you can easily check in on any project to make sure it is hitting deadline.
Get Started With Microsoft Teams With MSEDP
Microsoft Teams offers unified communication and is a great tool to help coordinate a team. Get organized by utilizing Microsoft Teams. At MSEDP, we offer assistance setting up Office 365, which provides an array of great benefits to businesses large and small. We would know, since we use Microsoft Office and Microsoft Teams. If you are interested in getting started with Office 365 or Teams, then please reach out to our office today. We can discuss the details with you and get you on your way.
Fill out a contact form today. Or call our office at 631-761-7600. On top of Office 365, we also provide many great IT services, such as cybersecurity services, 24/7 support, and managed services. Get great bang for your buck when you turn to MSEDP for all of your IT services and needs.