MSEDP offers professional Security Information and Event Management (SIEM) and log management that keeps your website safe and running smooth. As we progress into the future of cybersecurity, it becomes harder and harder to recognize when there is a breach or infection. The hackers and malware is always improving. So it is vital that your security measures improve, too. Firewalls and antivirus protection alone is no longer enough. MSEDP's powerful Security Information and Event Management (SIEM) and event log management solutions keeps an eye on all of your inbound and outbound traffic. We will match the packets against an ever-growing database that triggers specific, harmful events.
So turn to MSEDP for IT and cybersecurity services that you can trust! Learn more about the benefits of our cybersecurity protection plans. For more information about our IT services in general, please contact us today. When you reach out, we can further discuss our various protection packages. As well as go over the benefits of having professional security information and event management at your side.
What is SIEM?
SIEM stands for Security Information and Event Management. SIEM is a set of tools and services that offers a holistic view of an organization's information security. When you turn to MSEDP for SIEM, you will be getting your cybersecurity from a trusted professional in the industry. We have the tools to protect you from any threats on the internet.
SIEM provides tools to keep your website protected. Here are some of the benefits of security information and event management from MSEDP:
Real-time visibility across a company's information security system.
Event log management that consolidates data from multiple sources.
We gather information from different logs and sources and provide a correlation of events to keep your website safe.
Get automatically notified of security events.
So for SIEM tools that are effective and reliable, turn to MSEDP. We help small business websites across the country stay secure. And we offer affordable maintenance packages.
How Does Security Information and Event Management Work?
In a nutshell, security information and event management works by combining two technologies: Security information management, or SIM, and security event management, or SEM. SIM collects data from your log files for analysis and reports on any security threats and events taking place. And we combine with SEM, which conducts real-time system monitoring, notifies network admins about pressing issues and aims to establish any correlations between security events. So you get complete security enhancements with SIEM.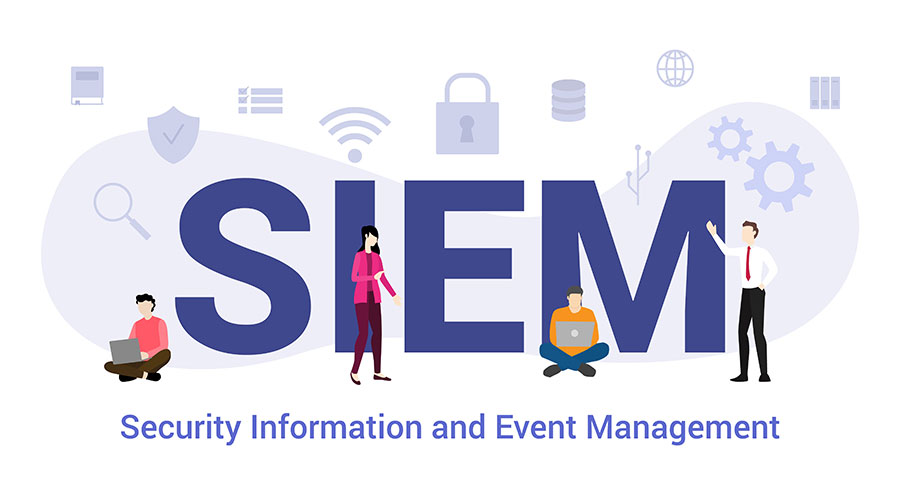 The security information and event management process breaks down as such:
Data Collection
We configure all sources of network security information to feed event data into our SIEM tools. These sources include servers, firewalls, antivirus software, and operating systems. We collect, process and filter these results to determine any threats.
Data Consolidation & Correlation
Our SIEM solutions consolidate, parse and analyze all incoming log files. We then categorize the events based on the raw data and apply any necessary correlation rules by combining individual data events into meaningful security issues and measures.
Policies
Each account will of course have its own profile. We define the parameters of the SIEM and effectively set the rules to detect any issues. We set the normal conditions against any pre-defined security incidents in order to catch a problem before it explodes. SIEM provides default rules, reports, and alerts. We will customize these options to best suit your needs.
Notifications
Lastly, if an event or set of events triggers a SIEM rule, the system notifies security personnel. So the issue gets stopped in its tracks.
SIEM & PCI compliance
Many companies and businesses mandate your site to comply with a cybersecurity framework. This can be vendors, the government, or a client. You will need to be compliant in order to be in business with these partners. So it is imperative to become compliant, otherwise you will lose out on business. But whatever the reason, MSEDP can help! We work with CISSP's to make sure your company is compliant with many different security frameworks, which includes NIST, PCI, ISO 27001/2, and CIS. All of these compliance projects begin with a risk assessment, which MSEDP offers.
The SIEM tools MSEDP uses can help an organization become PCI compliant. This security standard reassures a company's customers that their credit card and payment data will remain safe from theft or misuse. So everyone involved has a little peace of mind when it comes to the site's security.
PCI Requirements
A SIEM can meet the following PCI requirements:
Search For Insecure Protocols
Proper SIEM is able to document and justify the use of an organization's allowed services and protocols. On top of that, security information and event management services documents security features implemented for any insecure protocols.
Detect an Unauthorized Network Connection
When you need to be PCI compliant, you need a system that can detect all unauthorized network connections to and from a company's IT assets. MSEDP utilizes effective security information and event management solutions to help manage such a situation.
Traffic Flow Inspection Across DMZ
A demilitarized zone, or DMZ, is a perimeter network that protects an organization's internal local-area network (LAN) from any untrustworthy traffic. For many, a common DMZ is a sub-network that sits between the public internet and private networks. However, PCI compliant organizations need to use a DMZ that effectively manages the connection between an untrusted source like the internet and its web server. As you can imagine, this may be a large undertaking.
Also, any inbound internet traffic to IPs inside the DMZ must be limited. All the while, effective SIEM must also evaluate outgoing traffic. So this is a give and take process of enormous magnitude. Our state-of-the-art security information and event management services can meet these requirements and inspect all the traffic that flows across the DMZ space to and from your internal systems. And report on any and all security issues that arise. So your security system is aware before the threat can take hold and cause problems.