The modern threat landscape for businesses and their cybersecurity is complex with an ever-expanding attack surface across on-premises and cloud assets. Hackers will target the weakest spots, which emphasizes the need for greater visibility, rapid detection, dependable response, and adaptive security that will evolve with the changing threat landscape. So making the right choice when it comes to cybersecurity and security information and event management (SIEM). There are many choices out there to improve your security efforts and turning to MSEDP's IT services is a decision that will go a long way.
With cybersecurity services, the main issue is how to reduce cyber risk through continuous monitoring, rapid detection, and effective remediation in a way that is both practical
and affordable. MSEDP's cybersecurity services will protect your database, while not breaking the bank. Many businesses are finding cybersecurity success with managed SIEM services
that bring together virtually the most crucial technology and expertise for visibility and mitigation. When you turn to MSEDP, these are the services you will be getting. Make the call today and start better protecting your network. The number for our office is 631-761-7600. When you call, we can present a gameplan on how to best handle your IT services and SIEM in a way that fits your budget. As a result of our conversation, we will come up with a solution that will best suit your business's needs, budget restrictions, and resource requirements.
Advantages of SIEM
When it comes to security information and event management, it is important that businesses shift their mindset from "incident response" to "continuous response." By doing so, you are assuming you will be compromised at some point and look to seek a defense against the looming threats. If you are only worrying about cybersecurity after an incident happens, then you already lost. No business is immune to a cyber-attack, which means you should prepare for one to happen. SIEM is an effective cybersecurity solution that offers continuous detection of threats. However, SIEM is challenging to deploy correctly and manage full time, which is why turning to the IT team at MSEDP is a smart decision. With our leadership at the helm, we can utilize SIEM to safeguard your data and network. Over the years, SIEM has risen due to its many great advantages, which includes the following:
provides 24/7/365 monitoring and alerting.
addresses compliance mandates.
increases cybersecurity effectiveness.
decreases total cost.
overcomes many staffing challenges.
Take advantage of SIEM by opting for MSEDP's IT services today. Stay ahead of the curve!
Understanding the Different SIEM Solutions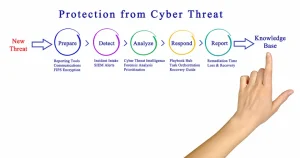 It is helpful to have a common understanding of the terminology and unique differences between the approaches to security information and event management. This way you can make an even more informed decision on how to better protect your assets. Due to the advanced threats in the climate today, the requirement for more advanced resources and technology has only grown. When it comes to SIEM solutions, there are four primary options available, which are DIY SIEM Software, SIEM-as-a-Service, SOC-as-a-Service (SOCaaS), and Co-Managed SIEM. Let's take a closer look at these four options.
DIY SIEM Software
This is a do-it-yourself option that involves businesses implementing the SIEM technology themselves or leveraging open-source tools in combination to add analytics, compliance, and log storage. If this is the route a business goes, it typically requires a larger team and higher level of expertise to not only implement the solutions, but also to manage, maintain, and tune these solutions over time. SIEM is not a "set it and forget it" type of technology. It requires a hands-on approach, which is also what the team at MSEDP can provide if you think doing it yourself is too much of an ask.
SIEM-as-a-Service (SIEMaaS)
SIEM-as-a-Service is also called "cloud SIEM." This option is basically Software-as-a-Service licensed on a monthly basis and hosted, maintained, tuned, and patched to work optimally. This way you do not have to worry about the infrastructure, log storage, or system administration. However, businesses will still have the responsibility to drive it to get value out of SIEM-as-a-Service. So you will need an IT equipped to handle the SIEM solutions.
SOC-as-a-Service (SOCaaS)
With this option, you receive the SOC "function" as a service, not just the software. With this option, you will be getting a team of people to orchestrate the solutions and the processes. You will also get all of the SIEM platform/tools necessary to perform the network and endpoint threat monitoring, detection, and response for your organization. MSEDP offers SIEM and log management. In a way, you can "set it and forget it" with this option since you are leaving it with our team of dedicated professionals to handle properly. But we will be on top of it at all times and most certainly not "forget it."
Co-Managed SIEM
Co-managed SIEM is a version of SOC-as-a-Service in which businesses can play a more active role in the shared responsibility of determining and carrying out the security operations strategy. A runbook with incident response (IR) and an operating playbook typically outline the shared responsibility tailored to your organization. This is a good option for businesses with an IT team, but perhaps one that is not big enough to handle all the aspects of SIEM. MSEDP can cater to your needs and provide you with IT services that fit your budget and scale.
How To Make a Decision
In order to make a decision on the best solution for your business, document your "must-have" criteria from "nice-to-have" considerations so that you do not solve for corner cases that may add complexity and cost. Of course, the most affordable is the DIY approach, but that is also one that leaves you stranded on an island in case this is an incident you cannot handle. Turning to the IT team at MSEDP ensures that someone is always there to help. Do not hesitate to reach out to MSEDP for the best in IT solutions and Security Information Event Management (SIEM) and event log management solutions.
Why Executives Should Be Involved in Cybersecurity
It is easy to leave the cybersecurity aspects of your business to your IT team, but when the executives and higher ups get involved in the goings-on with cybersecurity, then it is a big win for the business. Having an understanding of these aspects can help make major decisions down the road. Cybersecurity is a balancing act for any business, but a business that is too conservative might overlook advancements in the field of cybersecurity. Thus, putting the whole company at risk of attack.
Here are a few reasons why cybersecurity is an executive-level issue:
Cybersecurity impacts day-to-day operations, revenue, and reputation of the business.
Cybersecurity should be treated as an investment to better safeguard your business. It should not be treated as a cost that is expendable, which unfortunately many businesses do.
It is a cross-functional issue in that cybersecurity is everyone's responsibility since it impacts the entire business.
A business's appropriate cyber risk posture and data governance strategy is crucial and needs to be discussed at all levels.
By having the organizational leaders weigh in on these aspects, they can plan strategically for the business and determine what to prioritize with cybersecurity firmly in everyone's mind. It is important to emphasize the need to have these measures in place that will help any business save money and simultaneously reduce cyber risk. Keeping data and important information away from hackers and malignant attacks. At MSEDP, we ask all of our clients to carefully weigh the actual capabilities and timeline of security options that might seem on the surface to save you money, but do not fully protect you from threats. We are partners in this and we are proud to work with many businesses across the United States.
SIEM and Log Management With MSEDP
It is becoming more and more difficult to recognize breaches due to cyber attacks. Firewall and antivirus are no longer enough in this day and age since today's hackers are smarter than ever. So you need a smarter solution. MSEDP's powerful and dynamic Security Information Event Management (SIEM) and event log management solutions keeps an eye on all of your inbound and outbound traffic. We match the packets against an ever-growing database that triggers specific events.
The right SIEM solution varies based on your goals, use cases, budget, compliance requirements, and available staff. SIEM solutions are optimized for different use cases, so one size never fits all. The wrong choice of solutions can have a long-lasting impact, be costly to maintain and support, and time consuming to tune. This is why many SIEM deployments end up abandoned. And a big reason why you should turn your Security Information Event Management (SIEM) and event log management solutions over to MSEDP. Our IT team will give you a hands-on approach that will ensure you are safeguarded against threats, as well as be able to deploy measures immediately in the case of an attack. Stay protected when MSEDP is your managed service provider. Located in Deer Park, New York, we provide our IT services for clients across the United States!
Getting inundated with spam emails is a major issue for many people. Unfortunately, it is nearly impossible to stop all of the spam email you get, but there are some common ways to help slow down and reduce the number of spam emails that trickle into your inbox. If you need assistance in any way regarding your emails, get in touch with MSEDP today. We offer dependable email solutions for all types of businesses around the country. From email hosting to utilizing the cloud, our IT team can help you choose, deploy and manage the right email solutions for your business and budget.
Block Spam Email Address in Your Email List
Wholly blocking an email address will ensure that any future unsolicited message from that sender will go straight to the junk or spam folder. However, this is not a long-term solution since the sender will likely change their email address again. Thus sending you more junk mail. But what it will do is give us, your email provider, some helpful information on how to improve the filters in place and pinpoint where to stop it. When you get this unsolicited email, open it, report it as spam, and block the address. This should buy you a reprieve.
Report Suspicious Emails as Spam
Removing spam emails the manual way is very time-consuming and will not prevent that address from sending you more junk. However, reporting unwanted messages to your service provider will help us understand your issues and put the appropriate filters in place. Report every unwanted email as spam, but do so without opening the email. Opening an email from spam runs the risk of getting infiltrated by a virus or malware. Need help reporting spam emails? Let the IT team at MSEDP lead the way with Office 365. An application that makes managing your email simple and easy. Great for any sized business.
Spot The Signs of a Phishing Email
Phishing emails are one of the most common ways to entrap users with viruses and malware. These emails are getting more difficult to spot with each passing year. There are some signs to help spot these emails, which we cover in another blog post. In a nutshell, looking at email handles and content from unknown senders can be a major clue as to their validity. Spelling and grammatical errors in the subject line or body are common signs of a phishing scam. And if this email is requesting any personal information, report that email and block the sender. Never click or download any links or attachments in the email, because that is how they deploy their malware. Basically, be suspicious of any email from a weird handle or from someone you do not know.

Unsubscribe from Unwanted Mailing Lists
If you have subscribed to different mailing lists, you will quickly see how these spam emails build up in your inbox. Some of them you may want to keep, but others you may have accidently signed up for or signed up for a purpose, like when making a purchase. When unsubscribing, it is best to go to the company's website on the off-chance that the email is a phishing scam and the purpose is to have you to click on the link and download a virus. And if the subscription is clearly spam, simply try reporting it to file it away into a junk folder hopefully never to be seen again.
Turn Off "Auto-Load" For Images in Emails
There is a setting for incoming emails to "auto-load" images within the email upon opening. When this is the case, images are downloaded automatically, which provides information to spammers that can lead to dire consequences for you. Turning this off ensures that the hackers are not getting any of your information and you are safe. Of course, if you want to download the image and know it is safe there is always that option. But having the power is important, otherwise every image gets downloaded and some may be bad!
Stop Giving Your Email Address to Websites!
There are risks involved when you are signing up for newsletters or joining a new social media site. Not only are you opening up your email address to the potential of getting spam, but you are also risking being part of a data breach. When a data breach happens, it gives the hackers all of the information they need in order to impersonate those who had data with the entity. Some people opt to have a second "burner" email address as to not inundate their primary email address with spam and the risks involved. And do not post your email address to your social media profile! That is an easy way for a hacker to add it to a list and use it in an attack effort.
Use an Alias Email Address When Signing Up For New Accounts
Using an email alias can help you keep your identity anonymous and protect your email privacy. Whenever an email is sent to the alias, you receive it in a separate section of your main email inbox, which lets you more easily manage your inbox and block any unsolicited senders. Coupling this with identity theft protection is a great way to enhance your email security and prevent scammers from infiltrating your email inbox. Get top-notch cybersecurity when you turn to MSEDP and keep your data and information safe and out of the hands of hackers!
Start Fresh with a New Email Account
Sometimes you just might be in too deep and there is no way out . . . or so you think! With a little bit of effort, you can switch all of your major accounts to a new email address and avoid the continued inundation of spam emails. When you turn to MSEDP's IT services, we can help you create a new email address and move over all of your important information and address books. And when you do, you will be utilizing our spam filters and malware protection, which will better protect your email address and data. Get the best and latest spam protection when you turn to us!
Protect Your Devices with Antivirus Software
It goes without saying that antivirus software does not 100% stop you from getting spam. However, what it does do is protect you in case you accidentally click on or download a malicious file. We offer the best and latest in antivirus software and protection. We deploy a sonic firewall that will limit any attempts at hacking and in the case of a breach will immediately alert us, so we have time to fix the issue before it grows. Stay up to date on all the latest protections when you turn to MSEDP.
Contact MSEDP Today for Dependable Email Solutions
MSEDP has years of experience helping clients with their website needs and offers a whole host of IT services to keep your data and information safe. And we will never read, sell or scan your email content for advertising purposes. Our email hosting is affordable and provides you with many crucial benefits. With MSEDP as your email provider, give your business a professional look with email @ your domain name. And as discussed in this blog, we will keep your inbox free of spam.
MSEDP is located on Long Island in Deer Park, New York. Give us a call today at 631-761-7600. When you call, we can provide you with a no-obligation consultation to go over our various IT services and how they align with your business goals. Many big companies use MSEDP, but we are also proud of the work we do with small businesses around the country. And we do more than just IT services! Get professional SEO services and website design & building by working with our elite web team. At MSEDP, we can handle every aspect of your business website and help to grow your business.
If you have a website for your business, you are likely scared of it being hacked and infiltrated from outside sources. We have all heard stories of a hack tacking down a business and compromising the personal data of all the customers. This is a horrible act and one that sees consequences far and wide for a business. And it is a surefire way to lose the trust of the customer in the process. In the wake of all these incidents, it is more important than ever for businesses to take the proper steps to protect themselves from these cyber-attacks. One way to make sure you are taking the right steps is by hiring an IT team to implement a network monitoring and security monitoring solution.
Network monitoring allows you to keep track of all activity on your network. This way we can quickly identify and respond to any suspicious behavior. And security monitoring helps to detect and prevent malware and other threats from entering your network. By implementing both of these measures, you can help keep your business safe from cyber-attacks. Get the IT team at MSEDP to help today! We have years of experience working with companies across the United States and effectively prevent cyber-attacks with our managed services and 24/7 monitoring. Stay on top of the best and latest in the industry when you turn to the team at MSEDP.
In the meantime, let's take a look at the differences between network monitoring and network security monitoring and how these aspects apply to cybersecurity. Both of these aspects are important to the safety and security of any network and they work hand in hand with the IT services in full.
What is Network Monitoring?
Network monitoring is an IT process that monitors endpoints and servers within a network infrastructure in order to provide fault, performance and traffic insights. This monitoring also allows us, your tech team, to detect critical network issues, faults, and unavailability of network components, while being able to reduce the overall downtime. Having a network monitoring system in place also allows us to monitor the bandwidth utilization and reduce network congestion, which improves the overall performance of the network. It also allows for the remote availability monitoring of all assets and sends alert notifications to us for immediate attention. With our network monitoring tools, you get 24/7 monitoring for complete and total control of the network.
What is Network Security Monitoring?
Network security monitoring allows us to have insights and statistical data about the internal and external communications that originated or terminated within the network and implement security measures for protection of the network. In a nutshell, network security monitoring is the process that allows an IT team like us to effectively monitor the data flow and take all of the necessary steps in case of a discovered breach of security. Network security monitoring requires collecting, filtering, and analyzing logs from multiple data sources within the network. These data sources can include intrusion detection systems, intrusion prevention systems, firewalls, and more. This differs from network monitoring as it focuses on the security aspects and implementation of protection, whereas simple monitoring tracks other data and aims to keep the network running smoothly.
The logs are sent to a centralized solution typically called a Security Information and Event Management solution where the logs are converted into events and analyzed by professionals. Those professionals in this case would be us and we can assure you that the IT staff at MSEDP can effectively deploy measures that will keep your website and network safe from infiltration. We do so by following the best practices for these solutions, which allows us to stay on top of the game and keep your network running at optimal conditions.
Why is Network Monitoring Important
Now that we know what network monitoring is, let's learn why it is important.
Less Network Downtime
Service downtime causes both financial and reputational loss for any digital business. When a business website faces downtime, it places a lot of stress on the IT team and they are under pressure to quickly resolve the issue and get the monitoring service back up and running. When network monitoring is properly in place, it allows us to quickly identify the root cause of the issues. Whether it is a misconfiguration, traffic congestion, an interface link being down, or malicious activity, our team can identify the problem and start troubleshooting it. All in all, network monitoring ensures the downtime is as short as possible.
Quickly Identifies Security Threats
Security monitoring is simply not possible without the correct network monitoring in place. In order to correctly identify security threats, we need to ensure that the network monitoring covers every asset that is part of the entire network. This way we can identify traditional network behavior and set up a baseline for network traffic and be better prepared to identify any anomalies.
Prevents Network Outages
There are various reasons a network outage can occur, such as configuration errors, increasing complexity of technology, malware, and more. In order to prevent these outages from happening often, the proper setting up of network monitoring is a must. Its implementation allows us to stay one step ahead of any potential network issues by monitoring network interfaces for traffic congestion.
More Focus on Critical Operations
Due to the configuration of network monitoring systems, which delivers immediate pre-built dashboards, tech teams no longer have to waste time by manually digging into performance data. Manually troubleshooting a network issue is a very time-consuming process. But since the network monitoring tools make looking into problems much simpler, tech teams can spend time and resources on other more critical projects that improve the overall process of monitoring and network infrastructure. Leaving the network monitoring programs to run on their own.
Help Manage and Scale to Bigger Networks
The number of connected devices to the internet is always increasing. If you are a growing business, then you likely know the need to connect multiple devices to your network. All these devices carry equal importance for a business and are equally important when it comes to safety on the network. And over the years, remote capabilities have become more common and the need to connect remotely has only grown. In order to ensure the availability of all of these devices, all of the components must be proactively monitored and our deployment of network monitoring services will protect everything and everyone connected to the network.
Why is Network Security Monitoring Important?
Hackers and malware are constantly improving and finding new ways to infiltrate networks. So it is crucial to stay ahead of the game however you can and with network security monitoring you can! Network security monitoring allows for 24/7 monitoring of your network systems and quick response times that lead to little downtime. Having a proper network security monitoring system in place is important because it is a way to cover all of the bases of your network and leave no corner unprotected.
Assume there is a hack and the anti-virus fails to catch the malicious behavior in time and the attacker gains access to the network and its devices. It happens. Nothing is 100% certain, but if it does then the hacker has full access to all parts of the network and can do with it how they please. They can even lie in wait as you reveal all of your private data and information, leading to even bigger cyber-attacks that result in even more damage.
However, if proper network security monitoring in place, then this hack can still occur, but out tech team will be quickly notified that they beat the firewalls in place and immediately take the steps that eliminate the access. So, if you store and process sensitive data, such as financial information and cardholder data, then you are likely required by law to be compliant with the regulations. At MSEDP, we can help you get compliant and deploy the proper network security monitoring tools to get you on your way and protect your networks from all potential threats.
There are various ways to generate traffic to websites, such as with paid ads and social media. However, the majority of online traffic is driven to websites via the use of search engines. SEO, or search engine optimization, is organic and covers more digital ground than other marketing areas. It is also evergreen. Paying for ads is great, but those ads are only there due to your payment. If your payment runs out or is too expensive to continue, then you are left without much search engine visibility. Whereas good organic SEO will stay there after the work is complete and can pay dividends over time when set up properly. When organic SEO gets going, there is a snowball effect. The clicks just keep on coming and growing, because the content is always there. And when those clicks increase, the site improves.
When you turn to MSEDP for their SEO services, you are handing over the reins to experts in the field who will professionally work on your website to get it optimized. We offer affordable web content writing to create web pages for the keywords that best align with your marketing goals. Our experts will be in constant contact with you to make sure what we are doing best aligns with your website. And that you are ranking for the right keywords.
As search engines get smarter, those who are working on your website need to be smarter, too. Optimizing your website will help to deliver better information to the search engines, which brings in traffic to your website. Get the help of MSEDP today and start seeing the impact a growing SEO campaign can do for your website. SEO is important for your website and business and our web team can help grow your visibility.
Deciphering White Hat SEO Tactics vs Black Hat Tactics
A crucial element of search engine optimization is deciphering between white hat SEO tactics and black hat SEO tactics. When we say, "white hat SEO," we are referring to the SEO techniques, best practices, and strategies that abide by search engine rules. These areas offer more value to users and thus help a website grow an audience.
Whereas "black hat SEO" refers to techniques and strategies that aim to fool search engines. These "black hat" techniques can work, however they put the website at tremendous risk of being penalized and/or de-indexed and removed from search engines. Using "black hat" techniques for SEO purposes comes with ethical implications and is not how we at MSEDP operate. Penalized websites have bankrupted businesses and is a reason why it is important to turn to a trustworthy source for your SEO. You do not want to depend on an SEO agency and have them blacklist your website. And that is not what you will get when you turn to the SEO services at MSEDP. We understand the difference between these tactics and want to make sure that your website is growing the right way.
Search Engines Share Similar Goals as SEO Writers
There is a mutual relationship between search engines and those within the SEO industry. Search engines want to help websites succeed, because when they do they also grow a consumer base and an audience. Understanding that goes a long way in building an effective SEO campaign. To help, Google even has an SEO starter guide to help users utilize their search engine. That guide is filled with useful information on getting started with an SEO campaign, as well as pointing out some of the best practices to use.
Many think that Google is out to get them and swallow them whole, since they are such a behemoth. But on the contrary, Google is very supportive of the SEO community and aims to build a mutual relationship where Google and websites co-exist and benefit from one another. Google is not out here trying to limit your search results. On the contrary, they simply want to give their audience the best, most authoritative results on what they are looking for. And to do so, one must follow their SEO guidelines and the general guiding principles of search engine optimization. At MSEDP, we have the expertise and knowledge to traverse this landscape and build a website's organic traffic.
Optimize for Google Passage Ranking
Passage ranking is where individual passages on web pages can be ranked alongside the page itself. Perhaps you have seen this when searching on your own. This is important because it means that Google can pull out sections from a page, even if that page is covering a different topic than what is being displayed in the SERP. Let's take this blog post for example. It covers various important aspects regarding search engine optimization, including white hat and black hat SEO tactics and the aforementioned passage ranking. In a nutshell, the main keyword focus is SEO importance, however Google can pull out a passage about the importance of white hat SEO tactics and this blog post can rank for that, despite it not being the overall focus. It still finds that content relevant even though it is just a part of a larger idea.
So, how do you optimize for Google Passage Ranking? Well, you don't. You just create clear, engaging, easy-to-read posts that offer a user-friendly experience and Google will do the rest. If they deem the content worthwhile, they will pick it up. To help make this clear to Google, clearly delineating sections within the post aids Google's crawling and ability to pick up crucial information and rank it on their search engine. And the content within these sections should be clear and focused on the subtopic, like how this section is about the passage ranking and its importance. Almost like a blog post within a blog post. But it is also important to keep it relevant to the main topic, which I would say that discussing Google passage ranking is relevant to the overall importance of SEO.
SEO Expert Can Help to Grow Your Website
No matter the size of your business, SEO is important. Whether your business is big or you are a small business owner trying to make ends meet, getting organic web traffic is crucial in growing a business. You might think YOU can do it on your own, but handing the work and time over to experts is a smart decision. Not only are we experts in the field of SEO with years of experience working on websites, we also know what *not* to do. Wrong SEO techniques can actually do harm to your website, because you might be using outdated modes of thinking or utilizing black hat SEO techniques, which we discussed previously. When you turn to MSEDP, you are assured of getting up-to-date work on your website.
But do not think we aren't hands on when it comes to SEO! At MSEDP, we will work closely with you in order to be aligned on your marketing calls, because we know how important SEO is to any business and how quickly things can change. Our SEO services not only consist of content writing, but we send monthly reports to keep you updated on your keywords. And if there is ever an area of concern, you have the ear of our SEO team to get right on it.
With MSEDP's SEO team at your disposal, you will get clear and engaging copy that gets picked up by Google and helps your website rank. Perfect for any website, but especially perfect for small businesses who need an extra hand to gain customers. Make the call today and let the SEO experts at MSEDP handle your search engine optimization campaign.
When you turn to MSEDP for your IT services, you are in safe hands. One of the big reasons is the fact that you will be entrusted with Netsurion EventTracker, leaders in cybersecurity. With Netsurion, you get end-to-end managed threat protection, which aids in the protection of your data and your network. Comprehensive cybersecurity is comprised of a few different elements that, together, create a seamless protection. Here are those four aspects that make up these cybersecurity elements
The ability to predict future threats.
Prevention of more threats before they occur.
Immediate detection of current threats.
Simultaneous response to ongoing attacks.
Predicting attacks means we need to understand your attack surface and efficiently manage vulnerabilities. Prevention entails stopping more ransomware and malware attacks before they execute. However, nothing is 100% secure, which is why the plans to detect and respond immediately are crucial and lead to little downtime and no loss of data. Post breach, we will catch suspicious behavior and correlate advanced attacker techniques using Netsurion EventTracker. And respond by quickly resolving security incidents and compliance issues. With Netsurion EventTracker, you are getting top-of-the-line protection and the utilization of the latest in data protection.
Netsurion Essentials
With Netsurion, you get turnkey managed threat protection that is built for small businesses and their websites. When your turn to MSEDP, we can simplify cybersecurity with a complete managed security plan by utilizing the essentials that Netsurion provides us. We can predict, prevent, detect and respond to threats across your network. By properly implementing Netsurion, we are able to fight through the noise of millions of events and incidents and track only the most vital ones. We do this with the automation and orchestration from Netsurion Essentials and protect the data and assets of your data. Let MSEDP handle your cybersecurity services and we will optimize your time and priorities with comprehensive reports, dashboards, and compliance insights.
Let's take a look at more of the features of Netsurion EventTracker and why it is the smart choice for many small businesses when it comes to effective cybersecurity services.
Management
Secure and centralized management.
400 day log archives available.
Threat dashboard for easy access and use.
Comprehensive threat intelligence sources.
Insider threat protection.
Monitoring & Alerts
Cloud-hosted SIEM.
24/7 monitoring of your networks.
Daily security report for updates on you network.
Detect file modifications (FIM).
Multi-Factor Authentication (MFA) for secure access.
Minimize false positives due to advanced technology.
Detection & Response
Prioritize vulnerabilities to limit crucial attacks.
Predict unknown threats using advanced systems.
Host-based IDS (HIDS).
Incident response (IR) support.
Zero-time prevention to ensure little to no loss of data in case of breach.
Compliance Reports
PCI DSS
GDPR
HIPAA
NIST 800-171
Netsurion Managed Open XDR is a recognized, award-winning platform that is made for multi-tenant environments. And we at MSEDP are proud to utilize their features to supplement our cybersecurity services.
Zero-Time Endpoint Protection with Netsurion
Netsurion Managed Endpoint Security combines deep learning and a predictive threat protection solution under a single 24/7 system. By combining artificial intelligence and the human touch, we are better able to prevent and block advanced threats with the broadest attack surface protection against 100 file types. With Netsurion on your side, you enable stronger yet simpler cybersecurity against Zero-day threats, ransomware, APTs, and file-less attacks with unmatched accuracy and speed. This protection stays in place when devices are offline, too, so there is no time when you are at a loss of protection.
Advanced Vulnerability Management
Continuous vulnerability management is at the foundation of proactive cybersecurity services, which is what you will get with MSEDP and their partnership with Netsurion. With our cybersecurity services, you will be moving beyond compliance and reactive measures like firewalls to address advanced threats. Ensuring better protection for your systems. Elite vulnerability assessment begins with understanding your risk profile and identifying your network's vulnerable systems. Netsurion is the complete package when it comes to top-of-the-line protection from vulnerabilities and threats. Simplify your day-to-day vulnerability detection by using MSEDP as your managed service provider, where we can pinpoint gaps and prioritize the quickest solutions.
Sample Alerts and Reports
When you opt to go with MSEDP, a provider of Netsurion EventTracker, you will get out-of-the-box reports for firewalls, Microsoft 365 and windows, and other devices. Ensuring you stay protected. Here are some sample alerts and reports you will get that will alert you of your network systems. And give you peace of mind at your safety and protection from threats.
Critical Threats
Some of the common critical threats include the following.
Terminating processes with unsafe or low reputation IP addresses.
There is a potential breach from low reputation IP addresses.
Detection of an anomalous login and the subsequent blocking of the login.
High Risk Activity
High risk activity includes the following.
The clearing of the Windows audit log.
Notification of users added to domain admin or local admin group.
Detection of Active Directory Enumeration attempt.
Suspicious lateral network movement.
Suspicious Activity
When there is suspicious activity, you will get notified of the following.
When a new TCP port starts listening.
Change in the Active Directory group policy.
The successful login of an admin remotely.
Insertion of external media.
New Windows audit policy and account management activity.
Installation of new Windows software.
New Windows user location affinity.
PowerShell begins to run suspicious commands.
There is activity with an unusual IP address.
When a user account is added, deleted, or disabled.
Detection of a suspicious exploit tool.
Contact MSEDP Today For Netsurion EventTracker Cybersecurity
MSEDP is located on Long Island and handles cybersecurity and IT services for websites across the United States. We help keep your network secure and your data safe. And we do this by entrusting some of the best and latest technology available to us. We are an authorized partner of Netsurion EventTracker, which allows us to provide our customers with the best cybersecurity services possible. Please contact us today for more information. When you reach out, we can further discuss the types of cybersecurity services you require.
The number of our office is 631-761-7600. When you call, we can provide you with a no-obligation consultation to go over the various IT packages available. We are flexible and have packages that can meet any budget, while not compromising on safety. Learn more about our managed services and why they might be right for you! With our security services at your side, you get protection via vulnerability scans, SIEM and log management, and being compliant with regulations. As well as added protection with firewalls and malware with 24/7 monitoring. Make the switch to MSEDP today and start getting better protected.
Google is constantly changing their algorithm, which means that those handling SEO for a website need to stay up to date on these changes. However, it is futile to stay up to date on ALL of the SEO algorithm changes, since there are too many to track even if it was someone's full time job. But the SEO team at MSEDP does their best to ensure that best practices and methods are utilized when handling an SEO campaign. There are always some SEO techniques that prevail through these updates and remain a crucial factor for websites and their rankings.
If you are looking for someone to handle your search engine optimization, look no further than the team at MSEDP. We have years of experience in the field of SEO. From content writing to handling Google AdWord campaigns, to helping setup Google My Business, we have the expertise to help you and your business get ranking on Google. Let's take a look at some of the top techniques for SEO in 2023 and how these factors may impact your business and website.
Content is Still King
This sounds obvious, but there is a saying when it comes to SEO that "content is king." That notion still holds true today. So, creating new content and updating old content is still a great way to improve SEO and overall rankings. It is easy to get caught up in some of the details of on-page SEO and forget about creating new and engaging content for searchers. Producing contact on a regular basis means you can stay up to date with your competition.
When creating new pages, it is important to focus on a few factors that include page titles, headers and sub-headers, image alt text, and the keywords you are targeting. Fresh content is simply seen as more valuable than old content. If there are posts and pages with outdated information, it can negatively impact the whole site. Google does not want to show users information that is outdated and old. Older content is viewed as more obsolete, which in turn leads to a higher bounce rate, decreasing search traffic and thus lowering the rankings. But that doesn't mean you should delete older pages. No, by updating older pages you can make them more relevant in the eyes of Google.
The more you publish, the more frequently Google will index and crawl your website, which also boosts overall SEO. That is because fresh content is seen as engaging and more interesting, which leads to a lower bounce rate, higher search numbers, and better rankings for your keywords. At MSEDP, we offer professional web content writing to help you stay up to date.
Understand The Site's Core Web Vitals
A website's core web vitals has grown in importance over the years, so it is important that in 2023 you understand what these vitals mean and how they impact your website. Google defines these core web vitals as a set of metrics that measures speed, responsiveness, and visual stability. All of these aspects fall under the Page Experience factor and impact the rankings for a given website.
Here are three crucial factors that impact a website's core web vitals:
Cumulative Layout Shift: The CLS measures the visual stability of a website and is the amount of unexpected layout shift of visual page content. Ideally, you want the CLS to be less than .1.
First Input Delay: The FID measures page responsiveness and is the time it takes for a page to become interactive. The ideal FID is less than 100 ms.
Largest Contentful Paint - The LCP measures page speed and is the time it takes for a page's main content to load. Ideally, we want the LCP to be 2.5 seconds or faster.
These core web vitals should be baked into the building of a website. At MSEDP, we build fast, responsive websites. Get a website design team with years of experience to help carry you into the future.
Support Multiple Long-Tail Keyword Phrases
Since Google is constantly updating, the search engine becomes more advanced as time goes on. Due to this, Google understands similar phrases better, which means that the results page may display a wider range of search results. This impacts the search engine optimization of a website, because there then becomes a lot more competition for short tail keywords. However, if you focus and utilize long tail keywords with more specific phrases, you will have a higher chance of seeing your website near the top of searches for relevant and related phrases.
In the old days (of a few years ago), writing up a page would mean focusing on one keyword. However, with this new expansion of related phrases, you can aim for more keywords in a blog post or new SEO landing page. Take this blog you are reading for instance. There are a variety of SEO techniques and topics we are covering and all may be found by Google in one way or another. Not just what is mentioned in the H1 tag and meta details, like it used to be. On one hand, this is great and makes it easier to create content. On the other hand, the landscape of search results is wider, so the work needs to be even more precise.
Use Backlinks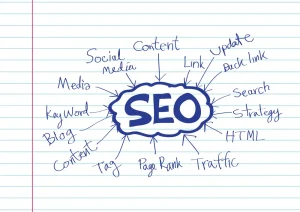 In many ways, backlinks are at the heart of what SEO is and attempts to accomplish. In 2o23, you cannot have a solid SEO strategy without having high quality links back to your site. That may sound unfair, but it is the reality of the situation. Backlinks are a crucial way of building authority. When a site with established authority links back to your site your authority and trustworthiness is boosted. And Google will see your site as more valid.
When you aim to use backlinks, it is important to focus on quality over quantity. The domain authority of your linker is more important than the amount of links you might have. You can also check out online forums to share your content and reach out to people. You can also use your social media accounts by sharing your valuable content there and reaching out to others about backlinking to your website. At MSEDP, we utilize the tools at our disposal to help grow every website. Handling the SEO on your own can be a lot, but with our help we can help you move up the rankings.
When Writing Content Add Images
This may sound simple, but creating content with images impacts your SEO. Make sure all of the images on your website are of high quality, because low resolution images do damage to even the best of websites. And make sure the images are relevant to your keywords. By looking at your image, the reader should be able to figure out what the content is about to an extent. When uploading images, it is important to make sure the images are compressed. These images and their sizes play a role in the page speed, which is a ranking factor now. One large image can slow down a fast website. At MSEDP, we have the tools to make sure all of the images are the right size and are not slowing down your website.
On top of the image size, the image alt tags are also important. These alt tags are the alternative to images and used by Google to help associate keywords to your image. When creating the alt text, it is important to include all relevant information and keywords. But it is also important not to keyword stuff. If it does not make sense to use a keyword, then skip, because keyword stuffing is viewed as spam and Google can punish a website for acting in this manner.
Focus on User Experience
Lastly, when it comes to SEO, almost everything can be boiled down to improving the user experience and this is even more relevant in 2023. The new core web vitals focus on the user experience, as well as improving and updating content, and all the other aspects that go into building a solid SEO campaign. Here are some of the more important factors when aiming to update user experience.
Mobile Friendly Website: It is important for a website to have a mobile responsive design. Our web team can upgrade your website and make it mobile friendly. So not only will your site work better, but it will also improve in the rankings.
Easy Navigation: It is important for users to easily navigate your website and find the pages they want. Our web design team has years of experience in this field and can design a beautiful website that is easy to navigate.
Fast Page Speed: Does it take too long to load pages on your website? Then you are likely hurting your SEO by having a slow website. Even if you have great content, a slow website hurts your rankings.
Quality Content: Make sure the content on your website is up to standards. No typos or broken links, since that shows little effort to have a working website. And when writing, make sure the content is useful to people who come to your website. Hopefully this blog post is quality content and useful to anyone reading it!
Good Interaction: Your website should have features that get users to interact with your site. In a nutshell, you want users on your website to click around and spend a little time on your website and looking at different pages. Making sure the interactivity is up to par is a good way to get this much needed connection.
When you turn to the cybersecurity services of MSEDP, we will eliminate blind spots with holistic endpoint coverage. Low cyber security visibility comes at a cost and what you see is what you get. With our cybersecurity services, you avoid limitations and unnecessary risk due to the installation of Netsurion Managed Open XDR sensors working across every endpoint. Without this sort of holistic visibility, you are susceptible to blind spots and a limiting of full protection. Increasing the possibility a cyber-attack doing damage.
MSEDP provides professional cyber security services with manageable custom packages. So you only pay for what you need. For more information about the cybersecurity services available from MSEDP, please reach out to us today. Make the smart choice as choose MSEDP as your managed service provider. We are located on Long Island, New York, but provide cybersecurity services to web clients across the United States!
Security Coverage is Critical
Oftentimes, a data breach can take over 100 days to detect and cost thousands, if not millions, of dollars. However, with comprehensive visibility and real-time analysis of devices and applications, MSEDP can provide you with an early warning of cybersecurity threats before any damage occurs. If you do not deploy security sensors across all of your attack surface, then you may be leading dangerous security gaps that leave you vulnerable to breaches. With our services, get 24/7 cybersecurity services that will ably sniff out threats before they do major damage. All with quick recovery time, too. Didi you know:
70% of cybersecurity threats start on endpoint devices like laptops.
62% of security professionals do not know where the sensitive company data is stored.
42% of all endpoints and workstations remain unprotected at any given time.
No matter how well protected you may be, there is always opportunity for growth and gain with your cybersecurity standards. And we here at MSEDP will meet the latest standards and certifications, including utilizing the best in firewall and malware protection. What level of risk are you willing to take when your data is at stake? Leave nothing to chance by turning to MSEDP. Elite tech support, all at an affordable price.
Challenges That Reduce Visibility
The attack surface for cyber criminals to exploit has expanded over these last few years. From the every-changing digital transformation to remote working, there are more opportunities for cyber-attacks than ever before. Which means the need for protection is at an all-time high. Legacy tools are becoming insufficient with each passing day and have more difficulty protecting against sophisticated and coordinated threats as opposed to the new technology that MSEDP can deploy on your behalf.
Logs, like threat detection, intrusion detection, compliance, network security, insider vulnerabilities, and supply chain risks are a crucial source of insight for our security analytics. Almost all workstations, applications, and devices produce logs. Depending on the size of your company, you may generate millions of logs on a daily basis. A number too high for manual review and correlation, which is why IT and cybersecurity services are even more crucial to your day-to-day safety than before.
Running a business is a lot of effort and coordination, which is why leaving your cybersecurity to MSEDP is the smart choice. Aspects can be forgotten or left behind if not careful, leaving you with only partial cybersecurity. But with MSEDP, we will make sure you are fully protected 24/7.
Some common challenges to keeping your logs without professional help include:
Traditional security products, like anti-virus software, may likely not be enough against the best cyber attackers.
A lack of comprehensive visibility for all devices and workstations and only focusing on core firewall or server security.
Sensor implementations that stop prematurely or deployments that are not completed.
From remote tech support to helping you host your own devices, MSEDP's flexible cyber security packaging allows you to choose what is right for you. Get the protection you need with the flexible cybersecurity and IT packaging from MSEDP.
Full Visibility Should Not Be Challenging
Full visibility with your cybersecurity should not be a challenge, but for many businesses it is. MSEDP is here to help those struggling with full visibility get the cybersecurity they are looking for. Many businesses believe that a heavy investment in software and staff is the right answer, but a simple smart solution is out there. As Long Island MSPs, we enable the consolidated view that better correlates threats in real-time and reduces incidents. Keeping your threats at bay.
Many businesses are aware of the growing cybersecurity risks, but are not able to handle the threats properly. As your managed service provider, we will make hyper-focused decisions based on your day-to-day operations and putting out any small fires that emerge. Ending whatever threats are lurking before they make a major impact.
Here are three levels of visibility you can achieve with the cybersecurity services of MSEDP.
Entry-level visibility: monitoring core devices like firewalls and servers
Better visibility: monitoring on-network endpoints like laptops and workstations.
Ideal visibility: monitoring all core devices such as firewalls and servers, as well as workstations, especially remote.
NOW Is The Time for Better Security Coverage
At MSEDP, we deploy layered security defenses in order to rapidly mitigate threats posed by persistent and well-funded cyber criminals. And all cybersecurity services are custom to the network and system. Taking into account the differences and obstacles that each client presents. We know each job is different, but we use our experience to combat the negative impacts of cyber-attacks.
Oftentimes, the first tactic used by cyber criminals is to perform research against a network. During this reconnaissance, these cyber criminals are looking for security holes like unpatched vulnerabilities or configuration errors. But with the expanded grasp of our cybersecurity services, we can protect you from these threats with 24/7 monitoring and making it difficult to achieve dangerous results from attacks. We do this by utilizing Netsurion sensors, which will protect all servers and laptops. These lightweight agents monitor and protect all devices, even when they are not connected to a network.
With Netsurion's holistic coverage through MSEDP, you can:
Reduce wasted IT time and money by having everything you need with MSEDP.
Minimize threat detection time, because every minute matters!
Decrease the potential for a successful hack.
Utilize existing team resources better.
Consolidate point product into a platform approach.
As a business, you can take crucial steps in order to minimize cybersecurity risks, enhance overall compliance, and eliminate visibility gaps without breaking the bank. All easy to implement with the IT team at MSEDP. Get holistic visibility to help predict, prevent, detect, and respond to incidents faster.
MSEDP offers professional cybersecurity services for all web clients. Get everything you need to keep your website and business safe from hackers and online threats with our managed service plans. With each passing year, cyber security threats increase as hackers and malware adapt. So it is important to stay on top of the latest risks by utilizing the best tools possible. Of course, there is no guaranteed way to prevent cyber-attacks, unfortunately, but having MSEDP on your side goes a long way. Both in limiting the prevention of cyber-attacks and quickly fighting issues if they arise. With MSEDP's IT services, you will have a team with years of experience helping you navigate the online terrain. And keeping your website, business and data as safe as possible.
On top of turning to MSEDP for the best and latest in the field of cybersecurity, you can follow these 10 tips to improve your cybersecurity. If you have any questions about our cybersecurity services and our managed services, please call 631-761-7600 today. When you call, we will happily answer any questions you may have, as well as go over our maintenance packages. Get cybersecurity with managed IT when you turn to MSEDP!
Back Up Your Data
Whenever you have the opportunity, back up your data. This way if you are the target of a cyber-attack, you will not lose any data despite not being able to access your computer, phone or devices. You can back up your data by getting an external hard drive for an offline backup or utilize a cloud-based service, like you would if you turned to MSEDP. Cloud backup is a safe way to keep your data safe. Backing up your data regularly, like every week, ensures that you keep your data despite cyber threats. And in the case of attack, you are not at a catastrophic loss.
Antivirus Software & Vulnerability Scans
As a trusted Long Island msp, we can install antivirus software while utilizing the latest in vulnerability scans to ensure everything is working properly. Our antivirus software helps to detect and remove malware and viruses from your system. We also monitor your systems 24/7 with our vulnerability scans, so we will detect any issues that arise in your system. The sooner we are aware of the issue, the sooner we can fix it. Our IT department uses the best and latest in cybersecurity technology to combat hackers and malware and have years of experience in this field. Our tech team will work with you to ensure your system's safety. And keep you apprised of any changes, as well as offer recommendations to help.
Keep Devices, Hardware & Apps Up to Date
It is one of those simple, yet often overlooked aspects of cybersecurity: keeping apps, hardware and devices up to date. Updates in this realm are not just about adding new features. These updates are often about fixing vulnerabilities in a device or app that attackers may use to hack into your system. As well as upgrading the security for the app or device. Ignoring these updates for too long can result in serious consequences.
When you turn to MSEDP, we track and update your devices for you, so you do not have to think about it. And if you have a device that cannot get updates anymore, we recommend upgrading the device. Same goes for your hardware. Our IT team can help you select the best and latest hardware and devices that are ready for 2023 and beyond! And for your apps, set those to update automatically and remove any apps you do not use.
Use Secure File-Sharing to Encrypt Data & VPNs to Privatize Connections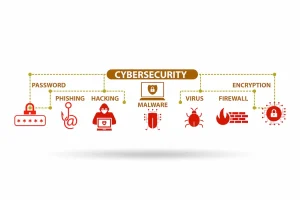 If you are regularly sharing confidential information, then we highly recommend using a secure file-sharing solution. Because this is the sort of information that attracts hackers and malware the most. Regular email is not meant for exchanging sensitive information, because if those emails are intercepted, then unauthorized users can gain access to your data. Using a secure file-sharing solution means your data is automatically encrypted, so you do not have to worry about a data breach. We follow various data encryption standards to ensure the full safety of the websites we manage. One extra step for protection is the use of a VPN. A VPN will encrypt your connection and protect your private information even further.
Choose Unique Passwords
You will be shocked to find out that many clients, before using our services, simply used the same passwords over and over again. This is a big no-no! If one password is hacked, then they are all susceptible to infiltration. When you turn to MSEDP, we help you create unique passwords for each account. Ensuring that if you are the target of a cyber-attack, the hacker or malware will have a difficult time cracking it since we use software to create random passwords. And if they crack one, it will not give them access to any other account. We act as a password manager, in a way, helping to keep your system and devices safe. Do not let your system get hacked because you had easy passwords to crack!
Use Two-Factor Authentication
Another way MSEDP protects clients from hacking is through two-factor authentication. By doing so, you can have a code sent or generated on your device that authenticates who you are each time you log in. So, even if someone gets access to your password, they do not have access to your phone or device that receives the code. Limiting how a hacker can gain access to an account. Using two-factor authentication is a simple and easy way to protect against cyber-attacks. And you do not need to use the hurdle for all accounts. Keeping it to the most important ones is also a great way to stay safe.
Check For Suspecting Phishing Scams
Scams, frauds and phishing emails are common ways to trick people into giving away their personal information or financial details. These endeavors often pretend to be legitimate businesses in an attempt to gain your trust. So it is important to be aware of these types of tricks and attempt to decipher what is not genuine. Do not give out your personal information to anyone unless you know who is asking and why they are asking it. At MSEDP, we have software to help with phishing scams via email. Notifying you what is spam and what is legitimate. But even with this protection, stop and check before replying or even opening any suspicious email. And check all links before clicking on them to make sure they are also legitimate. It is a good habit to form. And if you are not sure of the validity of the request, pick up the phone and call if you can. This way you can personally authorize the request.
Avoid Using Public Wi-Fi
When you connect to a public network, you are sharing the network with everyone who is connected. So, any information you send or retrieve on the network is vulnerable. We recommend staying away from public networks and using their Wi-Fi when you can. If you do have to use a public network, connect via a VPN or at the very least avoid sensitive transactions, such as online shopping or online banking. By avoiding these situations, you are maintaining your security.
Be On Alert with Social Media
Every time you post on social media, whether it is Facebook, Twitter, or Instagram, it is an opportunity for someone to steal your identity. These personal posts give cyber criminals the opportunity to get the information they need to access your data or steal your identity. In order to limit this impact, you can check the privacy controls so your friends and family can only see your full details. And the same tip about passwords applies here, where you want to have passwords that are not obvious in order to protect your account.
Check Bank Statements
This falls out of the realm of our IT services, but we recommend keeping an eye on your bank statements. Because oftentimes red flags can be found via suspicious activity or fraudulent purchases and be a precursor to a hack. If you see unusual activity, please contact your bank immediately. You can get ahead of the attack by being aware of this issue. And also check your credit card statements as well, because all of this information is tied. Getting one piece can lead to a larger theft. Also, getting a credit check can help and will let you see if anyone else gets access to them. Getting a credit check will let you see if anyone's using your personal details to get loans or credit for a big purchase. So, keeping an eye on your credit record can alert you to unauthorized activity sooner.
Bonus: Invest in Cyber Upgrades
Now that we went through 10 helpful tips to improve your cyber security, we have one more bonus tip: invest in upgrades. When there is an opportunity to upgrade a system or anything pertaining to cyber security, we recommend following through on it. The cost up front to pay for more security and improved upgrades outweighs the potential damage of being hacked down the road. At MSEDP, we understand how money can be tight, which is why we offer maintenance packages that are affordable. We do this by tailoring these packages to the individual, because not all aspects apply to everyone. Get in touch with MSEDP today to learn more about how you can improve your cyber security in 2023!
MSEDP's IT team excels at protecting your website and your data with the best in cybersecurity services. So, if you are worried about a potential attack, then entrusting your data, devices and network to MSEDP's IT team will ensure you are in the best position possible. We help our clients with all aspects in regard to a cyber security attack or malicious threat. Our IT services come in handy before a cyber-attack, during a cyber-attack, or even after a cyber-attack occurs. Even with the best and latest in technology, cyber-attacks are still possible. These criminals are always looking for the upper hand, but it is our job to make sure we are on par with what is happening in the environment. And putting those protections in place for all of our clients.
Are You Ready If You Fall Victim To A Cybersecurity Attack?
The main challenge for any small business is the changing technology for cyber-attacks. You need to protect your network, devices and data to stand up against all of the latest threats. How can you do that? By turning to a trusted IT team like the one at MSEDP! We are located in Deer Park, New York and work with clients from across the country.
If you have a small business website, then you need cost effective threat remediation and a security solution that is scalable, smart and supports standard policies and controls. Which is what you get when you turn to the ELITE IT cybersecurity team at MSEDP. Get affordable plans that will fit any budget. Turn to an effective solution with our handling of your network, devices and data. And rest easy knowing that you have the best team on your side.
Before a Cyber Attack
There are three key words to help plan for what happens before a cyber-attack: discover, enforce, and harden. Discover applies to the fact that you need to know, or discover, your network in order to properly defend it. With our years of experience in this field, we can effectively handle your network by knowing the ins and outs of it. We have software that will discover the vulnerabilities in your devices and applications and apply secure configurations that will reduce your attack surface. Protecting you from many cyber threats out there.
With our vulnerability assessment scans, we will help you avoid attack by identifying vulnerable systems and versions. And provide detailed recommendations on quick remediation and fixes to get you properly protected. We will enforce systems based on the readouts of the scans and apply them to keep your system safe. Ensuring any liabilities are being met with solutions.
Our software will also compare your existing configurations to others in an assurance that everything is up-to-date and harden your overall network security. A secure configuration is an economical method that reduces the attack surface and improves your system overall. Protecting your further from a potential attack.
During an Attack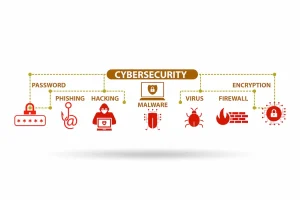 During a cyber-attack, it is important to detect, block and defend from malicious software. The threats out there are numerous and advanced malware is always a problem. We utilize the best firewalls that can quickly detect an attack in progress and identify malicious activity currently on your network. Our top-of-the-line threat intelligence feeds will quickly detect and alert on unknown processes or low reputation endpoints that are interacting with assets inside the network. This is important, because a quick detection means you can quickly deploy preventative methods to block further attacks. But without detection, then the attack can go unnoticed.
With our cybersecurity services, we can help during an attack by then blocking the attack by removing the unauthorized network user. This blocking will limit any similar attacks from occurring and shoring up your network security.
Once we block the malicious infraction, our software can then ably defend any further attacks. Limiting the damage and ensuring future safety. Have an IT team that works for YOU during a cyber-attack and get solution to protect your network.
After a Cybersecurity Attack
So, the worst has already happened. Now what? A few simple words: scope, contain and remediate. Perfect protection simply does not exist, therefore elite monitoring services is paramount to protecting your data, devices and network. After a security breach happens, the first step is to determine the scope of the damage. This way we can understand what is compromised and how far the threat goes. Once we know the scope, we move to containing the attack and limiting its damage. Lastly, we remediate the network and return operations back to normal.
MSEDP offers the best in cybersecurity protection and many small businesses across the country turn to us for our IT services. With our services, we quickly record all actions taken and results from the analysis of the scan. Data protection and privacy is a must in today's digital landscape. If you were a victim of a cyber-attack, then take the steps to prevent it from happening again.
Get SIEM & Log Management With MSEDP
When you turn to MSEDP, you will be getting the best IT and cybersecurity services for your money. We make fighting cyber-attacks affordable. For the best protection, firewall and antivirus is no longer enough. With MSEDP on your side, you will have our powerful and dynamic Security Information Event Management (SIEM) and event log management solutions on your side. What this does is track all of your inbound and outbound traffic, keeping your data, devices and network safe from a cyber attack. We match the packets against an ever-growing database that triggers special events. All of this enables us to protect your website.
For more information about our cybersecurity services, please fill out a contact form. You can also give our office a call by dialing 631-761-7600. When you call, we can have a full discussion about how our cybersecurity services can help keep your information safe. Make MSEDP your MSP today! Get cybersecurity management that works for you!
The number of threats out there putting you and your network at risk is higher than ever and more complex. These malicious attackers are becoming more creative in how they attack and break into networks. Whether it is through phishing, malicious websites, emails, or links to videos, cybercriminals know exactly what type of information they need and the best ways to get it. Which makes the practicing of cybersecurity services all the more important. In a perfect world, software developers would discover every single vulnerability while creating their product. Then fixing the issue before a release to the community. But we do not live in a perfect world, so these are risks that everyone has to protect themselves from. And you do that by using the latest in cybersecurity technology.
When you turn to MSEDP, you will be getting the best cybersecurity services for your money. Protect yourself with top-of-the-line cybersecurity technology. One of the ways we do this is with risk-based vulnerability patching. Risk-based vulnerability patching is a great way to protect your network and keep your data safe. Get in touch with MSEDP today to learn more about how we can be your managed cybersecurity provider.
The number for our office is 631-761-7600. When you call, we can provide you with more details about our cybersecurity services and our IT services in general. As a leading MSP on Long Island too, we can handle all aspects regarding your website. You are in good hands when you turn to MSEDP! A Long Island leader in cybersecurity.
What Is Risk-Based Vulnerability Patching
Vulnerability patching is simply the process of fixing vulnerabilities within software. A pretty straightforward concept that typically involves the developer of the software discovering the vulnerability and then fixing it before an official release. Vulnerability patching also refers to the updating of an operating system or other software with the hopes of fixing any discovered vulnerabilities. So, to fix the issue, software or network providers need to make a vulnerability patch. Users can regularly check whether any patches are available for their system. Then install those updates as soon as possible after the release.
Since MSEDP offers top-of-the-line IT and cybersecurity services, we can stay on top of these aspects, so you do not have to. It can be very difficult to run a business and manage some important aspects of your website. Perhaps you have an in-house IT team, but if you do not, then turning to MSEDP allows for professional care an attention to your IT and cybersecurity needs. Leave the computer stuff to us! We will make sure that your network is not compromised by utilizing the latest in cybersecurity services and implementing those updates.
Why Risk-Based Vulnerability Patching is the Solution
Since the landscape of threats for cyber-attacks is every-growing and complex, it is impossible to patch every single vulnerability in your software before any release. If a developer does miss a vulnerability, someone can file a report after the discovery. But this means that the vulnerability can exist in your software for months, or even years, before there is a report and a fix. During this time, malicious actors can discover the vulnerability and exploit it with great precision.
All of this leads to more importance with your cybersecurity services and the overall protection of your network. And makes the importance of sound risk-based decision making even greater than before. When the decision is made for risk-based vulnerability patching, it is important to understand three things: the risk of vulnerability, the discovery date of the vulnerability, and the release date of the fix.
The Risk of Vulnerability
If a vulnerability is very easy to exploit, then it is likely that the discovery has been made. But if a vulnerability has been discovered, there is no real way of knowing when a fix is going to be complete. In fact, the vulnerability may have been published online by the malicious actors themselves. Which means it may be included in hacking tools, such as ransomware, malware, and trojans. With MSEDP by your side though, you will have firewall protection that alerts you of these vulnerabilities and keeps your network safe from hackers.
The Discovery Date of the Vulnerability
If a vulnerability has been reported, but has not been confirmed and fixed, then exploitation by hackers is likely. The longer the vulnerability remains unpatched, the higher the risk for exploitation. Leaving you and your network open to malicious attacks by hackers. Our IT team is constantly on these issues and will implement changes to keep your network and data safe from any vulnerabilities.
The Release Date of the Fix
If there is a release to fix the vulnerability, then you should apply it as soon as possible. By having MSEDP as your managed service provider, we make these updates in a timely fashion. Ensuring your protection from malicious intent.
How Does Risk-Based Vulnerability Patching Work
If you do not have a clear strategy for deciding which vulnerabilities to fix and when, then you are risking the chance of leaving some vulnerabilities unpatched for too long. Which, of course, leaves your systems vulnerable to malicious attacks. By having MSEDP as your managed cyber security provider, you can rest assured that we are on top of these issues for you. And have the means to assess these vulnerabilities as they present themselves. When it comes to implementing risk-based vulnerability patching, there are three steps:
Identify the vulnerabilities in the software.
Understand the risk associated with the vulnerabilities.
Decide which ones to fix and when to fix them.
Aside from the very obvious dangers of malicious attacks, there are also other reasons why you should implement risk-based vulnerability patching. MSEDP can help you make these decisions or simply make the decisions for you. We have years of experience as an IT service provider and know how to effectively handle these issues. If a vulnerability has a low-risk association and there is no report, then there is no pressing need to fix it. The malicious actors likely will not waste their time trying to exploit something difficult.
By understanding the risks, we make sure to handle the most pressing updates quickly. With every update and patch, we follow all guidelines and regulations to keep your network and software up and running. But by implementing risk-based vulnerability patching, we can manage the complexities of your cybersecurity issues by protecting you and your business from the more pressing malicious attacks that make themselves present. By working with MSEDP's cybersecurity team, you will be getting the care and attention you deserve. We will go above and beyond to make sure that your cybersecurity needs are meet at all times.