MSEDP Offers Dependable IT Services
When it comes to your business, IT services play an out-sized role whether you like it or not. Everything regarding IT is crucial for the daily success of any company. So you are going to have to be willing to rely on tech in one way or another if you want your business to succeed. Some businesses have their own in-house tech team to help with the operations. But that is not always possible, which is when you turn to someone like MSEDP! A leader in computer tech support for decades.
We offer professional IT services that will help run your website and your business in full. From managed services, to security services, to cloud solutions, our IT team will lead the way! There are all sorts of IT services out there for you to choose from, but nobody treats their customers with the personal care and attention like MSEDP. Not only do we offer a wide variety of IT services for our customers, we are able to make these services affordable to fit your budget.
For more information about our IT and web services, please fill out a contact form. We will happily answer any questions or concerns you may have regarding the world of IT and how we can help your business. Our office is located on Long Island, and many in New York turn to us for our IT services. However, we also have a nationwide reach that spans companies and businesses throughout the United States! So please, give us a call today by dialing 631-761-7600. When you call, you can speak to someone on our team who will listen to your questions and come up with a solution that works.
Common IT Services
Let's take a look at some of the more common IT services people require and that MSEDP offers their web clients. We are a proud IT managed service provider for clients in Deer Park, New York, across Long Island, and even across the United States. Many businesses turn to us for the best IT services for their money. Check out some of the reasons why MSEDP is the right choice as your MSP.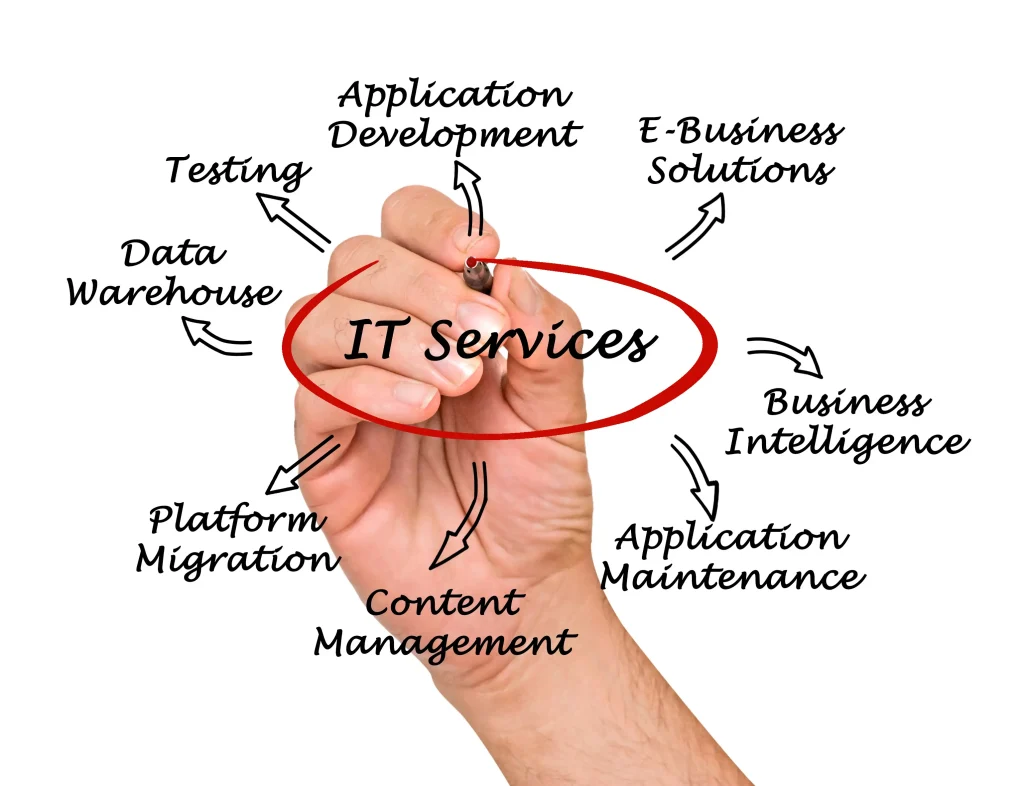 Managed IT Services
Managed IT services is an all-encompassing type of service. We are a Long Island MSP (managed service provider) that deal with single or multiple IT service needs for our clients. In general, some managed IT services include handling a remote server, desktop or device, as well as remote cybersecurity. Check out our full range of managed services. You will find what you need with MSEDP!
Cloud Services
The cloud computing services at MSEDP uses the power of the internet to offer businesses greater data capacity or additional applications. All done without major capital investment in hardware, software, floor space or IT personnel. So your business can get greater file storage, faster data processing, safer backup, trustworthy email control, and access to more software with less initial expense using today's cloud services. Learn more about our cloud computing services.
Cloud Backup
Cloud backup falls under the larger umbrella of our cloud services. Effective cloud backup allows users and companies to store their important information on an external cloud server, which circumvents hardware failure and other potential in-house risks and malware. Making it safer to store your data with less of a risk of corruption from malware or viruses or natural disasters.
Office 365 & Email
When you turn to MSEDP, you have the ability to employ our IT team to utilize Office 365 for your workplace. Office 365 operates as Microsoft's all-inclusive software package and features notable programs like Word and Excel. It is a great option for businesses that need diverse software for document organization reasons. Office 365 can also operate as a cloud server and updated email management platform. It is the perfect option for a company relying on emails for communication with a need for organization. Get Office 365 with MSEDP!
Cybersecurity Services
Cybersecurity services is a broad category that encompasses a lot, but it is still very important. When it comes to our IT services, it protects networks and data from malicious attacks by employing some common methods. From network monitoring, to firewalls, to anti-virus protection, our security services have you covered! Keep your information and business safe with our help. We use the latest in data protection in order to maximize our efficiency.
24/7 System Monitoring
We use cutting-edge software and get immediately alerted when systems are acting up or are down, even if its 2am! This type of monitoring service allows us to be proactive with any incoming problems rather then reactive, which may lead to more issues and damage. All to make sure that your systems are running optimally during business hours. And in general, our monitoring services will keep an eye on your servers, the net traffic, communication, security, and really anything else with your computer. Our monitoring services can also help with updating software and anti-virus protection, which keeps you safe from malware and system crashes.
Data Backup and Restoration
Data backup involves the preservation of information in case of an arising problem, like a natural disaster, a malicious intrusion, or hardware failure. In the tech world, this is typically called "backup disaster recovery", or a "BDR strategy." Having some sort of backup is crucial in order to prevent any lost data or information and having effective backup also leads to less downtime. Losing your data and information can be catastrophic to your business. So by having a BDR strategy, you are safeguarding against those issues.
Firewall Services
When it comes to a cybersecurity plan, having a firewall in place is one of the first measures taken. Having an effective firewall leads to a variety of important benefits, including monitoring traffic, preventing virus and malware attacks, stopping spyware and neutralizing hackers. MSEDP is a trusted firewall reseller and will come up with a custom solution for your website.
Anti-Virus Protection
Anti-virus protection is very important in keeping your site uncompromised. When you turn to MSEDP and their professional-grade IT services, you get anti-virus protection that protects you from malware and viruses, stops spam and malicious ads, impedes hackers, and offers virus vulnerability scans and assessments. Malware and viruses are constantly changing. But with our anti-virus protection, you will be safe and secure.
Remote Support
The global pandemic sped up what was already a crucial aspect in the world of IT services and that is remote tech support. We have long been able to provide our IT clients with the best in remote tech support, which means we can offer our services from a different location. And control any device from the comforts of our office to assist you with troubleshooting issues. We utilize remote tech support to help with software repair, upgrades or updates, or simply for general IT help. We are experts in the world of IT support and as a Long Island MSP, we can work with you to keep your business running smoothly.
Unlimited Help Desk Support
As well as offering remote tech support, we also provide our clients with unlimited help desk support with any of our managed service packages. Outlook not opening? Is your internet slow? The computer screen upside down? Or did you forgot your password? Call us as many times as you need and we will help you with your problem and come up with a solution. Our diligent IT help desk is well-versed and can help troubleshoot any problem you are having with your computer system.
Communication Management & Unification
Many who require a MSP do so because they need help handling their communication platforms. With our managed IT services, we can help you effectively handle all areas of communication, including messaging, chat, email, voice, video calls, and emails. We can also set guidelines for sending and receiving emails. By unifying your communications, you will become a more productive business.
Predictable IT Services Budget with MSEDP
When you turn to MSEDP for IT services, you get a predictable budget. That is because our all-inclusive flat-rate managed IT services gives you back control of your expenses. You can pick the package that best suits your needs. And since we can also supply hardware and software when you need it, you can rest assured that you're getting the lowest costs for all of your IT needs. Saving money to help run your business and stay productive. Get great IT services at low costs when you turn to MSEDP of Long Island.