We live in a world where if you have a business, whether it is big or small, the need for pay-per-click advertising is nearly inescapable. Everyone uses the internet to search for services and goods and if you are not utilizing your website properly, you could be left in the dust by your competition. Pay-per-click advertising, also called PPC advertising, is important in order to keep your business competitive in the marketplace.
At MSEDP, we can help you set up your pay-per-click advertising account using Google Ads. We have years of experience helping businesses get the most out of their website and maximizing their profits using Google Ads. This is an important feature for any business looking to find an edge. Without properly utilizing a pay-per-click ad campaign, you may be losing revenue without even realizing it!
If setting up a pay-per-click ad campaign is something you are looking to add for your business, please do not hesitate to reach out to MSEDP today. We work with businesses across Long Island, New York, as well as nationwide, and get them start with pay-per-click advertising with Google Adwords. Fill out a contact form today or give us a call at 631-761-7600. When you call, we can provide you with a no-obligation consultation to go over the best ways we can help grow your business. On top of PPC advertising, we also offer professional search engine content writing to help with organic searches and we can design and build new websites to help improve your website. In the meantime, let's take a closer look at the importance of pay-per-click advertising and how your business can benefit from it!
What is Pay-Per-Click Advertising, Anyway?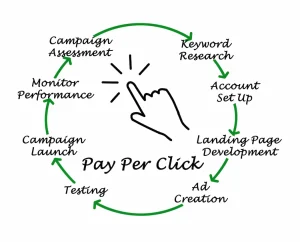 Pay-Per-Click is an advertising model of internet marketing in which advertisers pay a fee each time someone clicks on their ad. In a nutshell, PPC advertising is a way of buying visits to your website, rather than gaining clicks organically.
Advertising on search engines is one of the most popular forms of PPC, since it allows for advertisers to bid for ad placement in a search engine's sponsored links when someone searches for a business-related keyword. Instead of depending on organic clicks, these paid clicks appear at the top of searches. Thus allowing for an improvement in users to the website.
However, every time an ad is clicked on, the advertiser pays the search engine a fee. Whereas organic clicks are essentially "free" since you pay nothing for those clicks. But those organic results are not at the top of a page. Those spots are reserved for the paid ads. When working correctly, a PPC ad campaign can be very profitable. Paying a small fee for a click that might result in a sale or service is a small price to keep your business going. And you may be reigning in decent profit margins.
What Makes Up A PPC Ad Campaign?
When it comes to building a successful pay-per-click campaign, a lot goes into it. So it is important to put your trust into the hands of a professional. Here are the common aspects that make up your typical PPC ad campaign:
Researching and selecting the right keywords.
Organizing keywords into well-organized campaigns and ad-groups.
Setting up PPC landing pages that are optimized for conversions.
When done properly, search engines will reward advertisers who create intelligently targeted pay-per-click ad campaigns. If the landing pages and ads are useful and satisfying to users, Google may charge less per click, which only improves profits. So setting it up right can be a huge boon to your business. MSEDP can help set up and manage your Google Adwords campaign. And we can create the perfect landing pages for these PPC ads in order to boost your ability to gain traffic.
Pay-Per-Click Ad Campaign Focuses
When you are building an ad campaign that revolves around paying per click, then there are some important focuses that need to be folded into the marketing strategy. Google gets massive amounts of traffic. So it time and again delivers impressions and clicks for your ads. But how often your ads appear on Google's searches depends on the keywords and the match types you select. There are a few different factors at play, but these are the four main factors that may determine the success of your campaign with Google Ads:
Keyword Relevance
You must craft relevant keyword lists for pay-per-click campaigns, as well as tight keyword groups, and informative and proper text for the ad.
The Quality of the Landing Page
Crafting optimized landing pages with persuasive and relevant content is a must. On these landing pages, there needs to be a clear call-to-action that is tailored to the specific search queries.
Quality Score
Google offers a Quality Score, which is the rating of the quality and relevance of your keywords, landing pages, and PPC campaigns. When an advertiser has a better quality score, it will get more ad clicks at potentially lower costs.
Creative & Engaging Ad Copy
Creating enticing ad copy is crucial to the success of a PPC campaign. Google wants to make sure they are sending their users to pages that will deliver what they are looking for.
When you work with MSEDP, we can make sure that these focuses are met. So you can reap the rewards of your PPC ad campaign.
Maximize Your Return on Investment
When you have a PPC campaign up and running, you of course want to maximize your return on investment. A pay-per-click campaign can be a very cost-effective way of generating new leads and sales for your business, thus proving to be a good investment. But only if you set up your Adwords campaign properly. With the help of MSEDP's sales team, we can ensure that you get the most for your money with your Google Adwords campaign. We know how to properly set it up so you are reaching your marketing goals and finding your audience.
We will analyze your business and the climate it operates it. Determining the factors that will lead to the bid placements. In order to see a positive return on ad spend, the cost-per-click (CPC) needs to be lower than your average cost-per-acquisition (CPA), which is the cost to your business in order to acquire a new customer or lead. The cost-per-acquisition is sometimes known as a cost-per-conversion, too.
So, in order to run a successful PPC campaign that maximizes your return on investment, targeting keywords is crucial. Our team will do the research to make sure that we identify the keywords that are cost-effective, relevant to your business and align with your ad budget. We do all that we can to ensure that you are getting a good return on your ad spend. And we will work with Google Adwords, so you don't have to!