When you are running a business, you have a lot on your plate. Of course you utilize and appreciate your website, but sometimes it might take a seat on the back burner in terms of your priorities. And before you know it, it has been a few years since you upgraded your website.
On first blush, this may not seem like a big deal. You're active on the website. Making changes and updating your products. However, a lot can change in just a few short years in terms of the technology and software for the site. So it is important to stay on top of your website and upgrade at the appropriate times.
At MSEDP, we offer affordable website upgrades to make sure you stay up to date with the new technology. Your website needs to keep up with both its look and design, as well as how it functions. In this post, we get into some of the top reasons people need to update and upgrade their business website. Want more information? Then please get in touch with MSEDP. When you reach out, we can provide you with a no-obligation consultation to go over your options. We proudly have our own content management system that we have full control over, so you can feel safe and secure. But we also work with WordPress and design beautiful and elegant websites using that platform too.
So you have options and we will make sure the options match your budget. Read on to learn more about some popular reasons to upgrade your website. If it sounds like you, then do not hesitate to reach out and give us a call to go over our great options for website designs. Web design is very important for any business website. Stay competitive with a new website upgrade!
Update the Technology
The technology is advancing by leaps and bounds every year. So stay on top of these developments by updating your site every few years (at the least). You always want to make your website faster, simpler and, of course, more secure. And the new technologies and advancements allow for these upgrades. Do not be left in the dust of new software and technology. By updating, you will be providing users with a better experience on your website, which can lead to a ripple effect of more sales and more traffic.
New Website Design Trends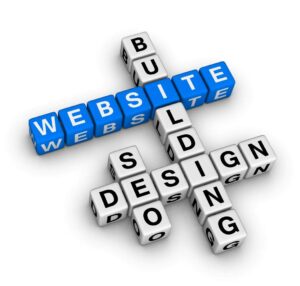 As with anything, trends change. So the website design you have from a few years ago now looks out of date and old. However, by continuing to update the look and design of your website, you won't lose any visitors who take a look at your old site and scurry away to a cleaner, newer looking website. Not for nothing, old websites do diminish a business's appeal. If you can't update the look of your website, some might question how well your business is doing.
But web design is so much more than colors and themes. it is also about simplicity and streamlining your ideas. Get to the point! Time is always of the essence. So when people land on your website, it is crucial to make it clear what you are all about. When you make it clear and straightforward, then the visitor stays on your page longer, which ultimately helps both the website and your business. Learn more about our website design and how we can help you clean up your website.
New Website Designs Can Make Your Website Faster
When it comes to a high bounce rate for a website, slow loading speed is the number one culprit. Time is always of the essence and wasting it for a website to load is not something people want to do. Of course, they are a few reasons for a slow loading speed, some of which have nothing to do with the design of the website. However, there are always emerging and new technologies that can lower your website's bounce rate and thus help your website's SEO. Old themes, especially for WordPress sites, also play a role in slowing a website down. As well as large video and image files. Clean these aspects up with a professional website upgrade. Give your website a facelift and reap the benefits!
Improve Website Security
With newer technology comes improved web security. Safety on the internet is a big concern for users. So feeling safe on your website will allow for a lower bounce rate. Older websites might have an outdated security, which can increase the risk of attacks and allow hackers an easier time getting into the system. If you get compromised, it can cause major problems. When you turn to MSEDP for a website upgrade, you will get a website that is compliant with all of the latest safety and security standards.
More Mobile Traffic Than Ever
With each passing year, the mobile traffic increases. So if you have a website that is not mobile responsive, then you are in trouble. And likely missing out on loads of traffic. This trend has a term: mobile-first website development. Meaning, when you create a website, the mobile sides are more important than the desktop aspects. You want to cast the largest net possible with your website and making sure it is mobile responsive is crucial.
And just like web design in general, even if your website is mobile responsive, if you haven't upgraded it in a few years you might be using old, slow and out-of-date technology that can improve. Especially in the realm of mobile responsive technology, when it is older it is often clunky and ugly looking. This will likely lead to a higher bounce rate. MSEDP can update your website to make it more mobile friendly. Learn more about the importance of a mobile friendly website. And be sure to turn to MSEDP for upgrades of any kind.
Rebrand Your Image
When we talk about rebranding, we simply mean a revision of your business. It doesn't even have to be a major change. When you change your design or image, then you might be attracting new visitors and customers. With your established customer base already coming along for the ride. In many ways, your website is the face of your business, so doing things to improve it's look is important in keeping your business current. At MSEDP, we can update your logo and give it a more modern look. Keep up with the times and rebrand your business every so often with a website upgrade.
New Features & Plugins
When you update and upgrade your website, there will be new features and plugins available. This holds especially true with WordPress, which often offers new and upgraded plugins. So staying up to date on these aspects can pay huge dividends for your website in general. Enhance your site's performance and better engage with your users. Integrate social media more into your website. Get more involved with Google Analytics to track traffic data. Upgrade to ecommerce, which is a great and simple way to sell products online. Or add a reservation or booking system to your website. There are many great ways to upgrade and update your website with new plugins and features. Get the most out of your website and upgrade today!